From Fendi to Gucci and Armani Inbetween
by Hadley Freeman | The Guardian | March 3, 2006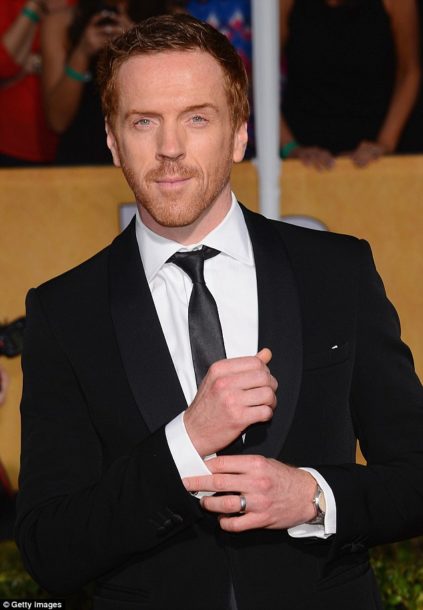 Actor Damian Lewis has shone on screen – but can he take centre stage in this season's patterned shirts? Hadley Freeman asks him.
'You're making me trendy, aren't you?" the actor Damian Lewis accuses us, with the cheeky smile of a man fond of being the centre of attention. "My God, the Guardian is going to make me trendy!" This extraordinary sentence is prompted by an equally extraordinary garment: a short-sleeved, button-down shirt by Fendi, seared down the front with chunky red and blue stripes and a most alarming chain print. It is, to my eyes, the spit of the sort of top my 90-year-old grandfather used to wear on the golf course in Miami. Lewis looks up for reassurance. I, with my usual photogenic tact, curl my left upper lip, scrunch my nose and shake my head. But Clare, the stylist, is adamant it will work – "you know, with a jacket" – and Lewis regards her suspiciously.
Lewis, 34, is one of Britain's hardest working and highest profile actors. He is fitting in this shoot between international promotional tours for Stephen Poliakoff's television drama Friends And Crocodiles, acting in the Ibsen play Pillars of the Community at the National Theatre, and preparations for producing his first feature film.
Since being nominated for a Golden Globe for his role in Band Of Brothers, he has played an impressively diverse range of characters, including Soames in The Forsyte Saga, Jeffrey Archer in Jeffrey Archer: The Truth, and Benedick in the BBC's modern adaptation of Much Ado About Nothing. But he is probably most recognisable for the fiery patch of splendid ginger hair, an attribute that increasingly dictates his wardrobe as he gets older: "I used not to care at all and wear pinks and greens, and that's so clichéd – red hair, green clothes. Now I tend to stick with dark colours," he says, plucking at his dark blue Gucci ("but understated!") shirt.
He arrived at the studio in east London just half an hour earlier, eyes pinched from interrupted sleep, clutching a large coffee. He wasn't particularly cheerful – a diatribe against a certain airline he recently had the misfortune to fly is most compelling – but cheers up as soon as the stylist takes him over to the rails of clothes, and he eagerly but critically starts rifling through. He looks a little nervous at the patterned shirts ("Richard James, what were you thinking!") but sighs contentedly over the Armani suits.
"So what is the look we're going for?" he asks solemnly. "We're thinking classic, traditional but modern and a bit more directional," Clare replies. Lewis stares at her for at least 10 seconds. "Er, what's wrong?" Clare nervously asks. "I love that fashion talk. I could listen to that kinda shit all day. I gotta learn how to do that," he cries, delightedly.
Aside from the talk, he claims to be "not interested in fashion at all", and he probably speaks for most men when he adds "but I am interested in style". This can roughly be translated as: "I'm not going to wear capes, skirts or multicoloured bodysuits, but I do like to look good." Fashion, to most men, is still synonymous with impractical fripperies that compromise masculinity, while style is looking like James Bond.
Actually, history proves that men can be pretty experimental style-wise – just think of flares, winklepickers and zoot suits. This season, patterns are the look, coordinated with soothingly sober suits.
Clare ties a scarf around his neck and Lewis announces that he feels "like Katharine Hepburn." A second glance at his reflection reminds him that his father used to wear one in the 60s. "My mother's father didn't think he was the right sort of man at all."
Lewis's style is, he says, "classic, not flashy, but I can also do 1950s lounge suit with the deep collar and long cuffs." He is partial to "a bit of Jasper Conran" but insists with great enthusiasm that "you can't go wrong with Zara".
Clare slips him into a black-and-white jumper with coordinated trousers and he is "definitely feeling it", though not as much as the Armani suit she chooses for him next. "You see! This is what I look best in!" he cries triumphantly to Clare. "No, it's just the kind of thing you're used to seeing yourself wear," she retorts. Lewis is shocked into a thoughtful consideration.
And it is right about now that Clare finally soothes him into the chain-print shirt he is sporting on our cover. Worn with a dark jacket it looks, surprisingly, pretty good.
Lewis looks at himself in the mirror and his expression is no longer one of horror. Indeed, it is almost one of approbation.
"I know," he declaims to all of us. "I'm in the vice-like grip of fashion now."
And he cocks an admiring, fiery eyebrow at his own reflection.
Read the rest of the the original article here