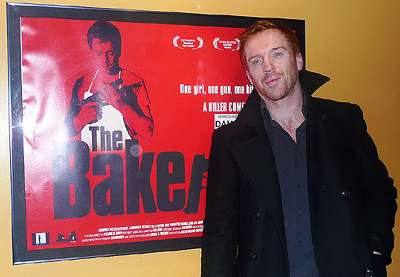 Click here for pictures from The Baker premiere at The Ritzy this past Friday! (Thanks to Gemma for the pics!) Click here for a brief mention of the premiere at the Hello! site. The film will screen at The Ritzy through Thursday, March 6th. Click here to book tickets online. The Baker is now available on DVD in the UK.
A Life update from today's Watch with Kristin:

Charles in Red Lion, Pennsylvania: What's happening to Life on NBC?

I am over the moon to tell you it's coming back. Yay! I just talked to Life boss Rand Ravich, and he tells me that shooting on season two begins in May and that the series should be back on the air sometime in the fall. As for what you can expect for Charlie, Dani and the rest, he tells me, "Season one was a journey into darkness, and I think in season two we're going to start a little lighter and move back into the darkness as we go through." Sweetheart, I'll take my Damian Lewis in any light, thank you very much. Amen to that! ➡

The Escapist will be distributed in parts of Europe and Australia through distributors Indie Circle, Sandrew Metronome, and Australia's Rialto.