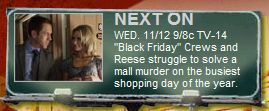 Reminder! In the US Life is now on Wednesday night; be sure to watch episode 2.08 titled "Black Friday" on NBC tomorrow night (November 12, 2008) at 9 pm ET.
Click here and here to read recent press releases about viewer ratings and online viewership of NBC programs including Life.
Today is the anniversary of the end of the First World War and many countries, including the US and UK, have chosen this day to publicly recognize and honor our military veterans. Here are some items of interest on this important day:

» This article talks about the importance of Band of Brothers, the epic World War II HBO mini-series starring Damian Lewis as Major Richard Winters, in raising public awareness of the sacrifices made by our veterans.

» Band of Brothers was released today on blu-ray DVD in the US.

» Major Richard Winters has donated the contents of his office, including many personal military artifacts, to the Hershey-Derry Historical Society in Pennsylvania. The exhibit is open to the public as of November 11th. The Historical Society will gratefully accept donations to keep the exhibit on permanent display. Click here for photos of the opening ceremony shared by the MajorDickWinters.com site.

» Click here to view the wonderful composite photo of Major Winters and Damian Lewis that was created by Ryoko.