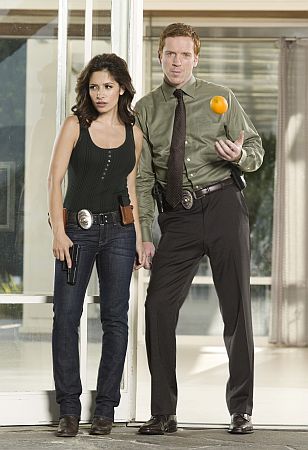 It has just been announced that Sarah Shahi is expecting a baby! Congratulations to Sarah on this happy news! 😀

Sarah co-stars as Dani Reese with Damian Lewis (Charlie Crews) on Life. Rand Ravich, the show's creator and executive producer, told Kristin Dos Santos of E! Online that Sarah's pregnancy will bring major changes to the show, including:

"a separation for the partners and a new job for Reese…In the coming eps, Dani Reese joins an FBI-LAPD joint task force on crime and is attached to that unit for the time being, in part to help moderate the show's demands on Sarah while she's pregnant.

Rand says, "[Sarah's pregnancy] is a challenge and a…challenge. Episodic television is a grueling schedule, and Sarah and Damian were practically in every scene together, and we certainly can't expect Sarah to work 15-hour days…So we were able to carve Sarah out of the main story a little bit—keeping her always related to Crews and always involved with Crews—and just give her some relief as well."

Apparently the pregnancy coincided nicely with a schism that they were already planning between Crews and Reese. Says Rand, "We wanted to diverge their stories somewhat, to separate them geographically to make them start doubting each other, tear them apart somewhat. And then hopefully, if they can work it out, [we can] bring them back together in a stronger fashion."

(That's all great but they shouldn't expect Damian to work 15-hour days, either! And they shouldn't keep Charlie's haircut so darn short! And NBC should have promoted Life during the Superbowl!) 🙁

Life will return to US television this Wednesday, February 4th on NBC with episode 2.13 "Re-Entry". 🙂
Season one of Life was released in the UK today on region 2 DVD and this IndieLondon review by Jack Foley says:

"BRITAIN'S Damian Lewis excels as a former police officer who, after years of false imprisonment, returns to the force with a decidedly different philosophy…. As played by Lewis, he was an enigmatic presence to be around throughout the first season of Life… and his arrival on DVD gives law and order buffs the chance to catch up on a classic new character in the making…If you didn't manage to catch it during its ITV run, there's another chance on F/X or – best of all – when this DVD box set is released on February 2. You won't be disappointed in this excellent new show."

The German Vox network has created a new page for Life – Season One which will premiere in Germany on March 11th with the first 2 episodes.
Thanks to Michelle for the news that Life will return to Australia's Ten network on Wednesday, February 4th at 10pm with episode 2.09 "Badge Bunny".
Great news! Rupert Wyatt's debut feature film The Escapist with Damian Lewis will be theatrically released in the US in April! ➡

IFC has acquired the US distribution rights and the movie will be released in Los Angeles and New York City on April 3rd followed by a limited release in selected cities. The film will be available to On Demand television viewers starting April 1st. This IndieWire article quotes Jonathan Sehring, president of IFC Entertainment as saying:

"''The Escapist' is a first rate thriller that respects the rules of the prison break film but also helps to reinvent it with thrilling flourishes thanks to Rupert Wyatt's superb direction."… "It's hard to believe this is his first film, and he's matched by terrific performances by Brian Cox, Joseph Fiennes, Damian Lewis, Dominic Cooper, Seu Jorge and Liam Cunningham. We think this is the perfect film for all of our platforms and are incredibly excited by its prospects."

The Escapist will be released on region 2 DVD in the UK on February 9, 2009.