Click above to watch a review of The Escapist by Ben Lyons and Ben Mankiewicz for At The Movies; both critics praised and recommended the film and (at approximately 3:00 minutes into the clip) Ben Mankiewicz gave special recognition to the "exceptionally talented actor" Damian Lewis.
Click above to see a review of The Escapist from Alison Bailes and Jeffrey Lyons for Reel Talk TV. The two reviewers strongly recommended the film and Jeffrey Lyons made special mention of Damian Lewis as a member of the film's "great cast."

Robert Levin of Film School Rejects has a new interview with Rupert Wyatt, director of The Escapist.

Escapist is now playing at the Village East Cinema in New York City and will open in LA on April 10th at Laemmle's Sunset 5 theater. The film is currently available to Video On Demand viewers under "IFC In Theaters;" click here for the Comcast On Demand listing.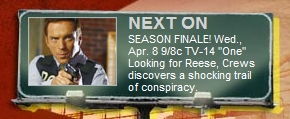 Reminder! Watch the season 2 finale of Life titled "One" that will air in the US on NBC at 9pm ET on Wednesday, April 8, 2009.

Alan Sepinwall, TV critic for the Star Ledger reviewed last week's episode of Life titled "Initiative 38". He also reported on a recent interview with Damian Lewis and executive producer Rand Ravich. The article includes "…a few paraphrased highlights from the call (in which Lewis used his native accent"):

Ravich said that he feels the finale will provide enough resolution to things that, "If this were it (cancellation), if I were a viewer I would not feel frustrated… There's still plenty of room to go on, still plenty of doors to open, but we do resolve a few things"

…Neither man really has any idea whether there might be a third season. Ravich joked that "Life" might return as a series of 30-second interstitials during Jay Leno's new show. When one reporter asked for details on the finale, Lewis and Ravich went on a run of jokes about the "Life on Mars" ending. (Ravich: "He ends up on Mars." Lewis: "We've managed to work in time travel.")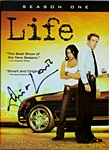 Don't forget! April 8th is the last day that Life fans in the US and Canada can enter to win a Life-Season One DVD boxset that has been autographed by Damian Lewis; viewers all over the world have until April 17th to win an autographed poster! Click here to find out how you can enter to win these great prizes!