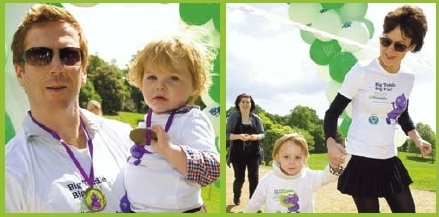 Happy Birthday to Manon Lewis; she's 3 years old today! ➡

The above pictures of the Lewis Family (L to R: Damian Lewis, Gulliver, Manon, and Helen McCrory) were taken at the Barnardos Big Toddle charity event on May 21, 2009. Visit the Warehouse to view additional pictures and click here for the summer issue of Barnardos VIP Magazine.

Caution, do not copy! Photographer John Baucher took this image of Damian Lewis in Belfast's City Centre on September 5, 2009. Damian was originally reticent about agreeing to be photographed due to concerns that the picture might be used for commercial purposes. After John explained that he is an artist and planned to use the photo in an exhibition, and that it wouldn't be sold, and that the last 2 days of the exhibition are a "free giveaway" Damian allowed the picture.

Damian Lewis fans will be interested in the new fashion trend for "Bunny Ears"! Maybe we've started something?! 😆 Thanks to Kaz for the link!

Click here to enjoy "Colors of LIFE" picspam from sweet_revenge00's livejournal.