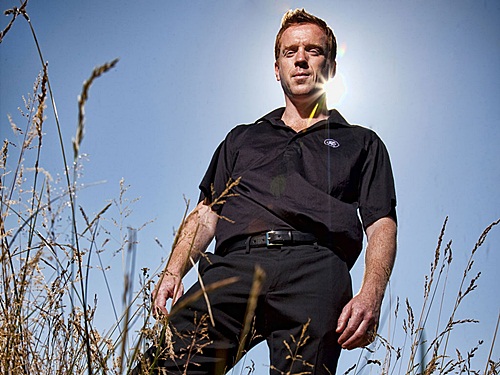 Football is a funny game with a strange habit of dividing families and testing loyalties. In any other circumstance, Damian Lewis would never dream of highlighting any differences he and his wife, the actress Helen McCrory, have over bringing up their children; indeed they always show the upmost discretion in interviews, but the beautiful game brings out a rarely seen masculine tribal instinct in Lewis.

"Well we live in north London and our local team is Arsenal," says the father of two. "And my wife, when I was filming in America – and I take great pleasure in making this public – went to the Emirates and bought my son an Arsenal strip. She doesn't even support Arsenal. I said, 'What are you playing at? You've crossed a line – a boy and father's rite of passage, going on their first trip together."

The actor is a die-hard Liverpool fan. In his latest film, Will, he gets to play a character who loves the Merseyside club as much as he does. He plays Gareth, an absent father who promises his son, Will, that should Liverpool reach the 2005 European Cup Final in Istanbul he will take him to the match. Given his own personal allegiance he clearly has not been coping well with the thought of his son Gulliver in an Arsenal shirt. Can Lewis bear to let his son support the local team? "You know what, I'm in two minds about that," the 40-year-old admits. "I did say, 'he's got a birthday coming up, so I'm going to buy him a Liverpool strip as well, so he's got both,' and she said, 'oh well, that's just confusing. You're going to play guilt-trips on your son; he's going to want to wear one to please one parent and the other one to please the other parent'."

Directed by American Ellen Perry, who Lewis describes as "dynamic and persuasive", Will is a sweet coming-of-age children's tale that features cameos from Liverpool legends Kenny Dalglish, Steven Gerrard and Jamie Carragher. It's no wonder that Lewis would jump at the opportunity to appear in what is a significant but far from leading role. He tries to claim that he's not involved with the film because it's about Liverpool, before waxing lyrical about how his side, along with Manchester United, have the "greatest romance and tradition attached to any team."

It's hard to dispute that the 2005 European Cup Final, in which Liverpool came back from three goals down, was one of the great finals in the history of football. So downbeat was Lewis at half-time that he admits that he almost missed the unlikely comeback.

"I was watching the game in a pub in Soho and I left at half-time, just going 'Oh bloody hell, this is a disaster'. I had a drink with a friend in a pub around the corner, and my friend said to me, 'Are you daft? Get back into the pub and watch the second half.' So ten minutes into the second half I returned in time to watch them stick three goals in in 15 minutes."
Read the full interview at The Independent.