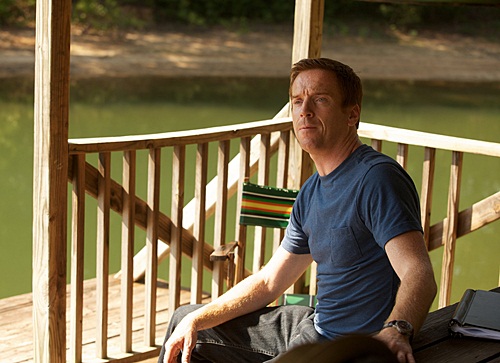 Damian Lewis is sitting opposite me, drinking tea in a wood-panelled library in a discreetly opulent Central London hotel. With his clipped Old Etonian accent and understated self-confidence, he seems the epitome of Englishness. Which is why it's surprising that so many of his highest profile roles have been Americans.

His latest drama, Homeland, is no exception. Lewis plays US Marine Sergeant Nicholas Brody, who has been held as a prisoner of war for eight years by Al Qaeda. On his return, he is feted as a hero. But CIA officer Carrie Mathison (Claire Danes) believes that, far from being an All-American patriot, he has been turned, and represents a grave threat to national security.

Here, the charming and affable Lewis talks about the series, his career to date, and how he'd give it all up in a heartbeat just to change one single moment from his past.

You had a great education, went to Eton, and at the end of it, you turned around and said to your parents that you wanted to go into the most capricious business imagineable. Parents dread their children wanting to act. How did yours react?
They were brilliant, and oddly supportive. They had seen me on stage at that point. A group of us put on a play at school, and my parents saw me, and I think they decided that it wasn't going to be a complete waste of time. And so in the last two years, when I should have been working for my A levels, I decided that I wanted to go to drama school. I'd stopped working, and my shocking A level results reflected that. So I was only going to go off to a not very exciting university anyway, and so I went to drama school. My mum said "Go, with our blessing." And what she really meant was "And that means you can stay at home with me for another three years." I grew up in London, so I lived at home throughout drama school. It was a very un-studenty three years. I went back to a nice family house every night where, if I was lucky, mum had left out a fishcake.

You went to The Guildhall School of Music and Drama. Have any of your contemporaries from there gone on to stardom?
There was a very rich seam of talent all around us. Joseph Fiennes was a contemporary of mine. Ewan McGregor was in the year ahead, Daniel Craig was in the year ahead of him. Just in front of them were people like Ben Chaplin and Rhys Ifans. Dominic West was just behind me.

And from there you went on to the RSC. Was that a valuable part of your education as an actor?
Yes it was. It gave me a campus life that I hadn't had. It was a bit like going through another training – you'd have voice lessons and verse lessons, and you'd rehearse all day and perform all night. And you just happened to be living in a small wendy house of a 17th Century workman's cottage right next to the River Avon, with Shakespeare's graveyard 300 yards one way and where he lived a couple of miles the other way. It was a rather extraordinary, rarified existence for a year. I loved it. And I would imagine, having visited Oxford and Cambridge many times to go and see my friends who were studying there, and I played cricket there quite a lot *cough* – where I scored a century – (the only one I've ever scored, and it was against a team called The Grannies!) I imagine our existence [at the RSC] was quite similar, just living in these beautiful, bucolic surroundings.
Read the full interview at the Channel 4 website.
More recent press:
Press Association – Damian Lewis wants Mad Men job
Digital Spy – Damian Lewis: 'Homeland is more psychological and political than 24'