Killer Charm and Killer Instinct
by Marshall Fine | Cigar Aficionado | January/February 2016 Issue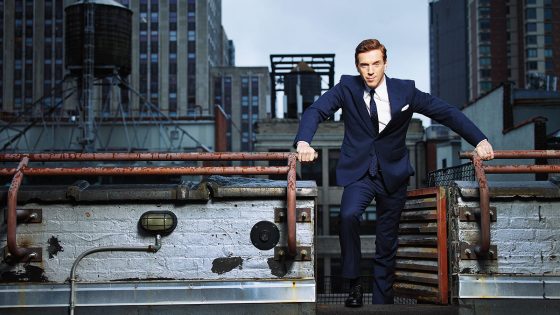 Heads turn as Damian Lewis strides into a Le Pain Quotidien franchise in Manhattan's Chelsea neighborhood.
Lewis, in sunglasses, walks the length of the restaurant unmolested to a table in the rear. It's mid-afternoon and the lunchtime crowd has thinned on this summery late-October day. Still, it seems an unlikely place to meet one of the hottest actors in television. Asked how he happened to choose this particular spot to meet, Lewis, sunglasses now off, smiles quizzically and says, "I thought you chose it."
Tall and surprisingly rangy, Lewis has a slow grin, and blue eyes that can look both warm and icily transparent in the right light. His coppery hair actually appears to have a slightly chestnut cast this particular day. Normally Lewis is the most recognizable red-haired actor working today.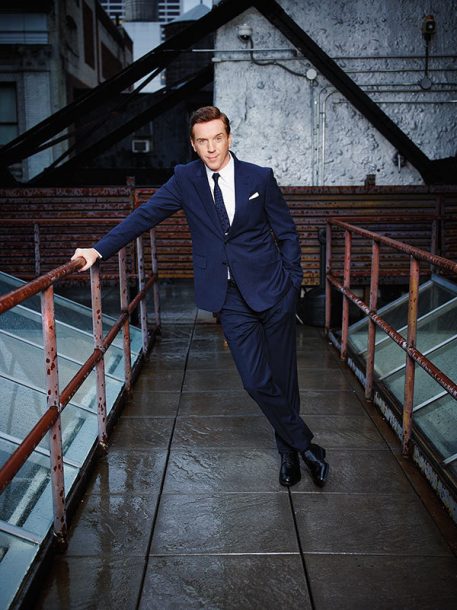 The 44-year-old Lewis has been living in New York for a couple of months, shooting his new series, "Billions," which has its debut on Showtime in January. "We've broken the back on it—we've done more than half of them," he says, ordering a salad and settling in for a chat.
In the series, Lewis plays Bobby "Axe" Axelrod, a hedge-fund king who finds himself the target of an investigation by zealous U.S. Attorney Chuck Rhoades, played by Paul Giamatti. Axelrod is a hard-charger, a blue-collar guy who rose from the mean streets of Yonkers to the top of the financial industry, conquering the hedge-fund world—and then rebuilding his company out of the ashes of 9/11. In an era when calling someone a member of "the 1 percent" can be considered an insult, Axelrod is a man of the people: the popular rich guy who still eats at the same corner pizza joint that he frequented when he was a kid.
Axelrod is a billionaire with both killer charm and a killer instinct. How many rules is he willing to break to surf the financial wave nimbly enough to enrich himself? Quite a few, as it happens—and in surprisingly elaborate ways. The series focuses on whether he covered his tracks well enough to keep the dogged U.S. Attorney Rhoades off his trail.
The charming criminal with a human side: You may hate the things he does but you wind up sucked into his personal saga if he's charismatic enough. In that sense, Bobby Axelrod lands right in the sweet spot for the kind of characters who have seduced and enthralled pay-cable audiences, from Tony Soprano to Walter White to Don Draper.
"These characters are fascinating because of their passion and desperation," Lewis says. "If you show anybody trying to achieve a goal, then anything they do seems to be forgivable, if they're caught up in an obsession.
"Bobby is a character who plays right to the strength of what is best about television right now. I feel very fortunate, really, to be working in this particular realm at this particular moment. It's my great fortune that I came of age at a time when this new form of television was developing.
"A major factor is that it's become increasingly difficult to make movies. So the sophisticated, interesting stories are being told on TV, where it's easier to get them made. People realized they could write scripts that were more complicated, that you can tell over a 12-hour period. And people take these 12-hour movies and binge-watch them. David Simon (creator of "The Wire") referred to this form as novelized drama. Watching one of these long-form dramas does feel more like getting involved with a novel."
One of the most popular novelized dramas of all time is "Homeland," which told the story of Nicholas Brody, the iconic character Lewis portrayed in the first three seasons of the much-honored Showtime series. Brody was a Marine sniper captured and held for eight years by al-Qaeda, freed by American forces and returned to America as a hero. But a bi-polar CIA operative named Carrie Mathison (played by Claire Danes) became convinced that Brody was actually a double agent, programmed to commit an act of terror on American soil. Which (spoiler alert), in fact, was the case—right up until Brody had a change of heart, just as he was about to trigger a suicide bomb in a room with the vice president of the United States and most of the cabinet.
"What was interesting about Brody was that, really, he didn't know who he was," Lewis says. "He's a soldier, he's a prisoner, he's a terrorist, he's a patriot. He came back to commit an act of terror—and wound up going back to Iran in service to his country."
The character fascinated the viewing public, in part because of the series' breakneck pace, hairpin plotting and cliff-hanger sensibility, in part because of Lewis' composed, mysterious performance as a killing machine who is trying to present the picture of a loving family man. In Lewis' performance, Brody became a character who seemed emotionally transparent even as he kept the viewer guessing about what he was thinking at any given moment.
"Damian is an incredibly deft actor who makes really daring, surprising choices," Danes says. "It was endlessly fun to explore the duplicity inherent in the Brody/Carrie dynamic. He's just so smart and charismatic, you never could be sure what machinations were ticking behind the facade. But of all of the cat-and-mouse business, he was very clear about what the rules of the game were in the actual act of playing the scene. We could afford to delve into the darkness and dishonesty in the land of make believe, because we were so open and direct with each other as actors. To have that communication and consideration with a partner-which translates into trust—is a beautiful and rare thing."
Though he had a busy acting career prior to "Homeland," Lewis' star took off almost from the first episode. He won both the Golden Globe and the Emmy for his performance as the star of a show that took the world by storm.
"Beyond our wildest imagining," Lewis says succinctly. "We'd finished shooting most of them by the time the first one went on the air and we knew we had something unique. But we had no idea. The reaction was immediate—and stunning.
"The immediate effect was a more aggressive kind of fandom. I was used to being stopped in the street, but there was something a little more hysterical about those encounters after 'Homeland.' People will physically grab you and stand right on your toes, to get a camera next to your face."
The show was a sensation, debated on talk radio and social media alike, with its nuanced view of both the war on terror and terrorism itself. Given the burgeoning real-life conflict in the Middle East after the intelligence failures before America's disastrous invasion of Iraq, "Homeland" tapped straight into a vein of political paranoia, even as it unpacked personal dramas about Brody and Carrie, who wound up as lovers.
That romantic entanglement—spy and terrorist, patriot and traitor, professional deceiver and undercover killer—became one of the show's most compelling elements, one that Lewis and Danes approached as a collaboration.
"Despite the Sturm und Drang of our relationship on-screen, Damian and I had a lovely, low-key rapport," Danes says. "Most of the actors lived in the same apartment building during the first three seasons [the series was based in Charlotte, North Carolina] and we would often have dinner parties, game nights and, yes, even craft sessions. We were building and defining the show during those initial years, so we worked closely and carefully to find it together. He was a wonderful partner in that process."
The show was an international sensation that counted among its admirers Presidents Barack Obama and Bill Clinton. Lewis and his wife, actress Helen McCrory, were invited to a state dinner at the White House in 2012 in honor of British Prime Minister David Cameron, an evening Lewis describes as an almost out-of-body experience: seated next to billionaire Warren Buffett and across from President Obama, as the president started talking about the fact that "Homeland" was his favorite show.
"He was extremely charming and funny, talking about how much he enjoyed the series," Lewis recalls. "I finally asked him, 'When do you have time to watch TV?' And he said, 'Well, on Saturdays, when Michelle takes the girls to play tennis, I go into the Oval Office and watch some TV.' That was such a great image to me: of POTUS, his feet up on the desk, kicking back to watch 'Homeland.' "
Shortly afterward, while attending an event for the Clinton Foundation in London, Lewis found himself face to face in the receiving line with former President Bill Clinton. Clinton recognized him—and shortly after Lewis finished his trip through the line, he was approached by two large men in dark suits, who asked him to follow them and took him to an empty room elsewhere in the building.
"I thought I was going to be assassinated," Lewis jokes.
Then a door opened and Clinton walked in. The former president spent the next 20 minutes offering Lewis a private assessment of how important he thought "Homeland" was in its portrayal of Islam. "It was fascinating," Lewis says.
Clinton wasn't the only one to make that observation: "I can't tell you how often I get stopped by people, who appreciate my depiction of an observant Muslim," Lewis says.
All good things must come to an end, however, and (spoiler alert) Nicholas Brody died in the final episode of the third season. (Lewis did, however, make a return of sorts as Brody in a drug-induced hallucination Carrie suffered during Season 4). According to Blank, Brody survived a season or two longer than he was originally supposed to.
"Originally he was supposed to die at the end of the first season," says Showtime CEO and chairman Matt Blank. ("I thought it was the second," says Lewis.) "But Damian was so great in the role and the character had so many possibilities that we just couldn't do it. Obviously, his time on Earth was limited after that."
By the third season, Brody's death was inevitable. That didn't make it any easier to accept for hard-core fans of the show: "I still get people coming up to me saying, 'How could you kill Brody?' " Blank says.
"At the time Brody's death came, he'd already had at least one stay of execution," Lewis says. "He created problems from a storytelling point of view. When it came time for him to die, it felt like the right thing to do."
The end was dramatic, and resonated with the actor. "Filming that scene," he says, "with me simulating being hung by a crane in Rabat, Morocco, with 200 Moroccan extras screaming—that was pretty overwhelming, actually."
"Homeland" made Lewis a star, but it was HBO's 2001 miniseries "Band of Brothers" that launched him toward that orbit. Playing an American soldier who survives the air-drop behind enemy lines that accompanied the D-Day invasion in June 1944, Lewis found himself plucked from the ranks of actors earning a living in Great Britain and flown to Los Angeles for a meeting with the series' producers: Tom Hanks and Steven Spielberg.
"You have to understand that film and television never really figured in my plans," Lewis says. "Theater was my focus. Then I'm suddenly flown to Los Angeles, put up at this lovely hotel at the beach in Santa Monica—and then ushered into a meeting with Steven Spielberg and Tom Hanks. I mean, these men are iconic artists. But they both had such warmth and were so welcoming to me. And here I was, one step removed from the poor roving player."
That miniseries required Lewis and his castmates to go through a basic training course, an accelerated two-week version of what real soldiers in World War II underwent, to pick up some of the skills their real-life counterparts had. Lewis had the added challenge of working his way up to a command position, just as his character, Richard Winters, who moved up from lieutenant to major through a series of field promotions during his year of combat.
"I had to go through the training but, by the end, I had to be leading the group," he recalls. "It was physically very challenging. I led them in a combat exercise: all of us against our handful of instructors." The outcome of said exercises made Lewis grateful that he was only playing a World War II soldier rather than actually serving. "I got shot so many times—I was like a sieve."
Despite the serious characters he has played, from Major Winters to Brody, Lewis has a playful and loose side. As some of his costars point out, Lewis is most happily himself when he gets in front of a camera. "There's a lot going on beneath the surface, and yet outwardly he's not doing anything," says actress Sarah Shahi, who costarred with Lewis in the short-lived "Life," on NBC. "He's got a great stillness that's very compelling."
Says Giamatti: "He's super-intelligent, super-engaged, really fun to play with."
There are unexpected facets offscreen as well: "I think people would be surprised to know how much of a song-and-dance man Damian is," Danes notes. "He took tap lessons one season—and got really friggin' good. He's got more than a little Fred Astaire in him." Adds Shahi: "He does Elvis Presley, though his Elvis probably isn't as good as he thinks it is."
Whether it's acting, dancing or even doing an impersonation of a rhinestone-studded superstar, Lewis is a born performer who calls his urge to perform "innate." He grew up in wealthy surroundings. "Somewhere back there," he says, "my family made its money during the Industrial Revolution." His maternal grandfather was Lord Mayor of London and there are titles on his mother's side of the family that go back several generations. "But they're baronets," he says, referring to what's often a purchased title. "Not real nobility."
Lewis attended Eton, Windsor's so-called "School of Kings." Almost from the start, he says, he focused his extracurricular life on school theatrical productions, including an early predilection for Gilbert & Sullivan. At the age of 16, he put together his own theatrical troupe of pals, renting a space and equipment to put on productions of their own. When it came time for college, there was only one choice: acting school. His parents agreed and he was accepted at Guildhall School of Music and Drama, where schoolmates included Dominic West, Joseph Fiennes and Ewan McGregor.
"My mother said, 'If this is what you want to do, you should go. We think you have talent—and if we didn't, we'd tell you.' They were very supportive."
Once out of drama school, he worked day jobs until he landed a position at the Royal Shakespeare Company, working his way through supporting roles as a member of the acting corps. He played Laertes to Ralph Fiennes' "Hamlet," a role that brought him to the attention of Steven Spielberg, who remembered him when casting began for "Band of Brothers."
Lewis is thankful for Spielberg's attention. "That show changed my career," he says. "It changed my life."
After the Emmy-winning "Band of Brothers," the offers of work flooded him, from both British and American films and television. He played the central role of Soames Forsyte in a new version of "The Forsyte Saga" for British television, then hopped the pond for the well-regarded but little-seen "Life," which lasted two seasons, one of them shortened by a writers' strike.
He took roles in a big-budget Stephen King adaptation (Dreamcatcher, 2003) and a low-budget Sundance hit, Keane (2004), the latter performance bringing him to the attention of "Homeland" producers in search of someone to play Nicholas Brody.
One of the byproducts of Lewis' time on "Homeland" was the chance to smoke cigars with the writers and producers on that show, as they would gather at the end of the day. Cigars, he finds, provide an opportunity for conversation with friends after dinner.
"With a glass of whiskey at the end of the evening, a cigar is just right," Lewis explains. "I like milder, creamier Dominican cigars, although I've also enjoyed the occasional Cuban. You can buy them in London. I got a nice humidor full." He says he gifted the humidor full of Havanas to Howard Gordon and Alex Gansa, "Homeland's" executive producers.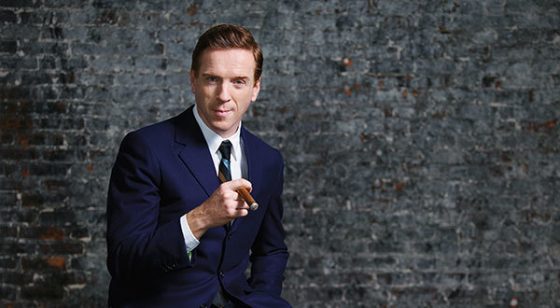 "Billions" brings Lewis back to Showtime, which pleases Matt Blank. While network loyalty seems a product of a bygone era, Lewis couldn't resist the chance to work with Showtime again.
"We were excited to be working with Damian," Blank says. "It's a relationship we want to nurture with this series. This is the kind of flawed character—like Dexter or Ray Donovan or Nicholas Brody—that has become a trademark for us."
Axelrod has secrets, but so does Chuck Rhoades. There's a difference in how the two characters deal with those secrets, explains the Emmy-winning Giamatti—but secrets themselves always make for compelling acting choices.
"There's something interesting about a guy with a secret, and that's particularly true about Damian," says Giamatti, who appeared on the cover of Cigar Aficionado in 2011.
Playing a character with that kind of duality—the public face, the private demons—is the kind of challenge actors relish. A character with a secret always harbors tension beneath the placid facade.
Notes Lewis, "Really, it's like being a good poker player. When you're in that situation, there are always two people you're playing with—the other character in the scene and the audience. Then there's the question of whether you allow the audience to enjoy knowing the secret as well—or whether you keep it to yourself. As an actor, you have to play everything with total sincerity. You play it from moment to moment, the way every good liar does."
The battle between an überrich hedge-fun manager and a government official seems plucked from current headlines. "The timing seems right for a story like this—the financial crisis is still on people's mind and there's great talk about income inequality," Lewis says. "Here are these two men—Axe, with secrets that skirt the law, and Chuck Rhoades, with his personal secrets and issues with his father that drive him."
With his light British accent, Lewis is part of a generation of actors from Great Britain (and Australia) who seem to have taken over American television, ranging from stars such as Simon Baker ("The Mentalist") and Hugh Laurie ("House, M.D.") to regularly-employed, familiar-looking supporting players like Lennie James ("The Walking Dead") and Brian F. O'Byrne ("Aquarius").
"I'm not sure what it is about the British playing American characters—maybe they bring a fresh take on it," says Giamatti.
"When I'm shooting something where I'm playing an American, I'll put the accent on as soon as I get to the set and just never drop it," Lewis says. "There are people on 'Billions' who have never heard my British accent."
A far tougher demand than changing accents for this British star of an American TV series is time away from his two children, a daughter, 9, and son, 8. Lewis and wife McCrory (a semi-regular on the Showtime series "Penny Dreadful") juggle their busy acting schedules so that when one is working, the other isn't. The London-based Lewis was headquartered in North Carolina for much of his run on "Homeland" and has been filming "Billions" in New York.
"We have those discussions, that, in order for mom and dad to do their work, they have to be away sometimes, but there's sadness, yes, at having to be away," Lewis says. "When they were younger, they could all stay with me, but with school, that's harder. They do get the chance to come over occasionally. And I fly to London every chance I have. But it's always painful to be away from them."
"I was really impressed by his devotion to his wife and kids," Danes says. "He often spent his precious days off on a plane to join them in London for 48 hours, when they couldn't be with him in Charlotte. He was there to be with his daughter at her birthday party, to take his son to his first day of school. He made real sacrifices to keep that part of his life—the life part of his life—intact and happy. And he adores Helen and is transparently proud of her power and depth as a person and actor. You gotta love a man who loves a strong woman."
If anything, Lewis says, his life and marriage achieve a certain balance from the fact that both spouses are in-demand actors: "The easiest thing would be to have a wife that stayed at home," he says. "But my wife has had success and has a career that needs to be nurtured and encouraged. It's a constant negotiation, but I wouldn't have it any other way."
The afternoon is winding down and Lewis has other appointments; days off on the demanding TV filming schedule are consumed by the part of life that's put on hold the rest of the week. Time for a final question: If acting hadn't worked, what would he be doing?
Without hesitation, he says, "Teaching. History."
After the barest of pauses, he flashes that smile that can toggle from winning to sharklike with just a flicker of the eyes: "And drama. Of course."
Read the rest of the original article here