Signature Cocktails Served at the Billions Season 2 Premiere Party
by Gingersnap | damian-lewis.com | February 13, 2017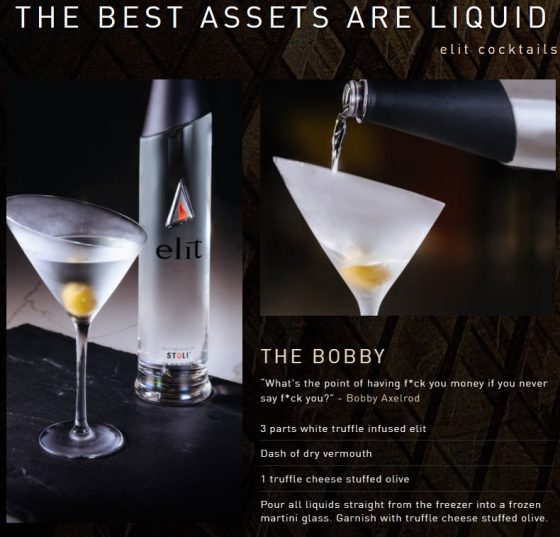 Want the inside scoop about the Billions premiere party?  We have the skinny! It was both fashionable and elite.
As the advert states, "The best assets are liquid" …liquid gold that is!
Damian attended the Billions Season Two Premiere party on February 13, 2017 at New York's Cipriani's. The event was hosted by elit Vodka® and came complete with a signature cocktail menu that could wet any billionaire's appetite!
elit® created a namesake drink called "The Bobby" which was aptly named after the character Bobby Axelrod, whom Damian plays on Showtime's Billions.
"The Bobby" is three parts white truffle infused elit Vokda® and a dash of dry vermouth, served in a frozen martini glass with a truffle cheese-stuffed olive for garnish. Yes please!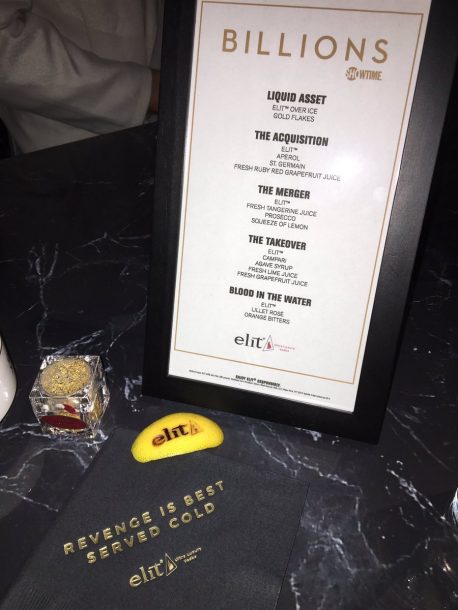 Other signature cocktails on the menu were the Liquid Asset, The Acquisition, The Merger, The Takeover and Blood in the Water.
Let's dissect each signature drink on the menu:
Liquid Asset ingredients are elit Vodka® sprinkled with gold flakes. That's right, edible gold flakes!
The Acquisition has elit Vodka®, Aperol, St. Germain and fresh ruby red grapefruit juice.
The Merger, which I personally made at home while hosting my own Billions season two premiere party, contains elit Vodka®, fresh tangerine juice, Prosecco and a squeeze of lemon. It was to die for. Don't take my word for it. You can now make it yourself.
The Takeover has elit Vodka®, Campari, agave syrup, fresh lime juice and fresh grapefruit juice. I'll take two please!
And the Blood in the Water drink contained elit Vodka®, Lillet Rose and orange bitters.
And what genius marketing idea but to have Fashion Vignettes in New York Saks Fifth Avenue stores on February 28. Axe's style is more laid back, with cashmere undershirt and tennis shoes, where as Chuck's style is typical suit and tie with pocket square.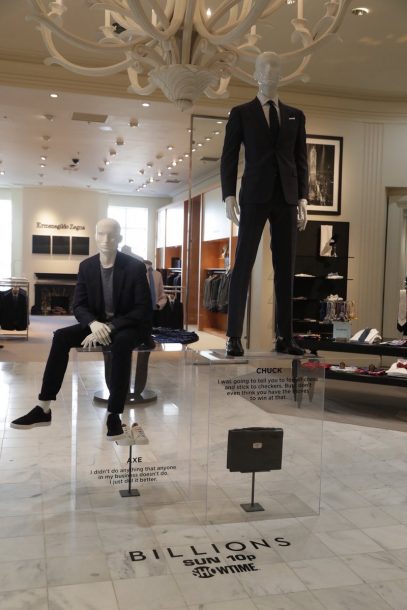 Cheers!