Acts of Aggression 
by Sarene Leeds | Vulture | May 5, 2019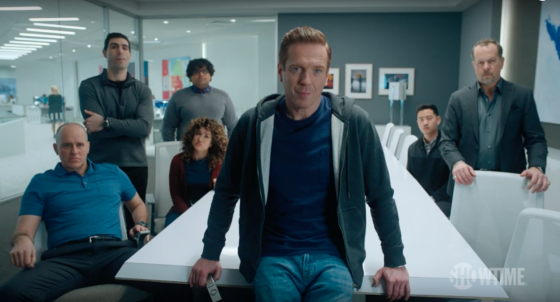 When I said I was down for a brawl between Mafee and Dollar Bill in my previous recap, the last thing I expected was for Billions to actually go through with it.
All told, the charity boxing match between Axe Capital and Mason Capital is a delight to watch for its sheer absurdity, made all the more uproarious by Rich Eisen's sardonic commentary. (Sample observation: "This is probably one of the pussiest fights I've ever seen in my life.") It's a fantastic metaphor for Billions as well, capturing the raw, brutal nature of its characters, who are fighting tooth and nail in a game nobody is ever going to win. You can set the scene to AC/DC's "TNT" all you want, and let Dan Soder and Kelly AuCoin indulge in several Rocky fantasies (both get to participate in an "Eye of the Tiger"-soundtracked training montage, with each of their characters coached by real-life MMA/boxing pros). But when it comes down to it, both Mafee and Dollar Bill are two out-of-shape traders who have no business in a boxing ring. Of course the match is a draw.
Regardless, the fight is an entertaining respite from all of the sobering plot threads encroaching upon our protagonists, because outside the ring, the gloves are off. As we know, Wendy's psychiatric manipulation left Taylor more vulnerable than ever, leaving them no choice but to go on the offensive. Obviously, I don't like to see Taylor grow "cold" and "vindictive" — or become the kind of person who baits Axe into getting the fracking ban lifted in New York state just for the glory of outwitting their former mentor — but there isn't anywhere else for them to go at this stage. Besides, their victories against Axe and Wendy in "Fight Night" are both warranted and laudable.
For Axe, who thrives on the kind of mudslinging that Taylor dishes out via their CNBC appearance and subsequent water-rights reveal, this is just another day at the office. It's Wendy who is poised to suffer the most from Taylor's — or rather, Sara's — retaliation. The Mason Capital COO reported Wendy's devious behavior (she used her confidential knowledge of Taylor's family to destroy not only Douglas' project but his relationship with his child) to the medical board, and now the Axe Cap performance coach's license is under review. Unlike her boss, who wants her to fight the malpractice allegation, Wendy still has a conscience buried somewhere within her, and isn't exactly jumping to her own defense. She admits to Axe that if she were on the medical board, she would unquestionably strip herself of her license.
Wendy needs something tangible to hang on to now that she's jeopardized her career, so, against her better judgment, she's opened the door to marital reconciliation. Just a crack, mind you: She refuses an offer on the house and considers "maybe" taking it off the market; Chuck remains persona non grata in their bedroom. But given how his professional problems are spilling over into his personal life, he'll take whatever wins he can get.
Moving over to this week's law procedural storyline: There's nothing like your enemy's firm opposition on an issue to turn you into its biggest advocate. The second Chuck gets wind of Attorney General Jock Jeffcoat's "grave concerns" about blockchain mobile voting, he immediately shifts from ambivalence to preaching about "inclusiveness." His new mission becomes helping disenfranchised Indigenous Americans — specifically, the ones squeezed out by Charles Senior's casino land deal.
Never mind that Chuck's interest in helping the Native Americans pales in comparison to his real intent, which is to mess with Jock. Watching Chuck navigate this minefield with Senior leading the way is peak Billions, the Rhoades family edition. Just as we're getting past the queasiness that comes with looking at a stack of pancakes, Paul Giamatti and Jeffrey DeMunn treat us to a pair of equally cringe-worthy scenes that ensure Senior's legacy as a stain on humanity can never be disputed. I don't want to reprint Senior's words here, but suffice to say, he manages to insult the Jews, the Ukrainians, and Indigenous Americans in a single breath when Chuck asks for an introduction to the Cayuga Nation.
Chuck may be genuinely embarrassed by his dad's casual racism, but conflating the Cherokee Wilma Mankiller with the Haudenosaunee Jane Halftown (Tanis Parenteau), the Cayuga Nation council member who agrees to hear out his mobile voting pilot program pitch, doesn't win him any points, either. Also not helping his case is the fact that Halftown's constituents have a lot of animosity toward anyone named Rhoades. Turns out Hurricane Senior didn't just leave a bad land deal in his wake — he left a baby daughter behind, too.
Senior is all too happy to play doting dad for Halftown and her colleagues, and agrees to financially compensate those hurt by his casino, at Chuck's prompting. But as soon as the Rhoades men exit the meeting, Senior is wearing his signature smirk and assuring a furious Chuck he will "always be [his] only child."
Permission to shudder granted.
So how does Chuck eventually get Halftown to endorse his pilot program? By funding a 529 college savings plan for his little sister. (If he hadn't already pissed away his trust fund I'd say he should move some of that money over to his new sibling, too.)
I don't have a problem with Chuck poking the bear over mobile voting, even though, as usual, it's for self-serving purposes (and ironic; he won his own election thanks to Axe's voter suppression). But Jock's angry phone call with Connerty suggests that Chuck has hit a major nerve. If you thought Senior's comments about Indigenous Americans were atrocious, Jock tasking the U.S. Attorney with introducing "an infected blanket" on the situation is just plain vile.
Next thing we know, Senior's real estate development is being shut down by the New York Police Department (Jock and Connerty threatened to pull task force funding, so Commissioner Sansome fell in line). Now that Jock has made things personal, Chuck could not be more on-brand when he name-checks the man who will be the guiding light for his next move. Like Lyndon Johnson, AG Rhoades has quite the knack for political persuasion.
Read the rest of the original article at Vulture