Whodunnit [Unrehearsed]
by Gingersnap | damian-lewis.com | July 16, 2019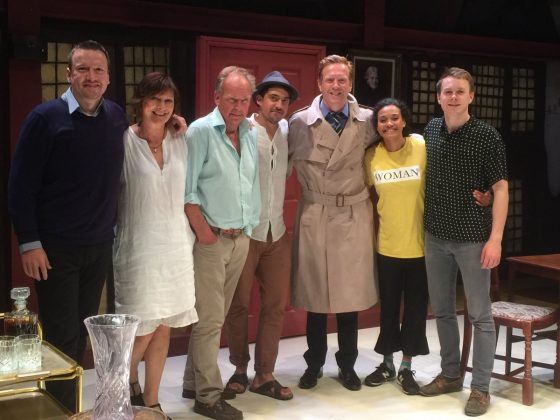 We reported earlier here that Damian was slated to appear as one of the guest Inspectors in the mystery play Whodunnit [Unrehearsed] at Park Theatre London sometime between July 15 – July 27, 2019.  Reports are coming in via social media that tonight's Inspector was indeed Damian! Our first clue was an Instagram video showing Damian sporting his Inspector's trench, but sadly the original link is now broken (Fear not, we have a video. Keep reading!)
Then Tweets started pouring in:

If only we could have been there! Well, View From the Outside was there during Damian's performance and had this to say:
"Last night I had the great pleasure of seeing Whodunnit (unrehearsed) at the Park Theatre (a very generous treat from my lovely mum).  Today my mouth feels a whole lot wider from excessive laughing and smiling.  That is a thing right? Aching mouth aside, this is a much needed dose of pure silliness. I'm hoping it isn't giving too much away to say that my inspector was played by the wonderful Damian Lewis. All I'll say is that Damian Lewis is a brilliant sport and seemed to be enjoying himself. I added "seemed" purely because he is such a talented actor, for all I know he was screaming inside and is now in an emergency session with a therapist. I must confess that I was clapping and whooping with the best of them when Damian Lewis was revealed as our inspector, dignity be damned! However, I will say that the show is designed in such a way that you'll have a great night no matter who you get. So if you're sobbing into your tea because you had your heart set on getting the lovely Damian, fear not, there is still a long list of eye-wateringly fabulous celebrities waiting in the wings."
To view all the photos, please visit our Gallery here. And now for some behind the scenes videos!
Whodunnit [Unrehearsed] not only features the voices of Ian McKellen, Judi Dench and Miriam Margolyes, but also a different celebrity in each performance stepping in as the Inspector without any rehearsal and without ever having seen the script. Instead they had their lines fed to them live onstage via an earpiece as they attempted to crack the case, avoid the furniture and stagger their way to justice. The production did not announce which date each of the celebrity guests were playing the Inspector – so the mystery was, who will walk through the door at each performance?
Gargantuan guest Inspectors include, Clive Anderson, Gillian Anderson, John Bishop, Matthew Broderick, Gyles Brandreth, Marcus Brigstocke, Jim Broadbent, Adrian Dunbar, Adam Hills, Ronan Keating, Damian Lewis, Maureen Lipman, Joanna Lumley, Jason Manford, Neil Morrissey, Clarke Peters, Meera Syal, Catherine Tate, Sandi Toksvig, Tim Vine, Bradley Walsh and Ruby Wax.
Get tickets now, here.