Enlightenment and 'Deca'-Dence
by Paul Vigna | Wall Street Journal | May 4, 2020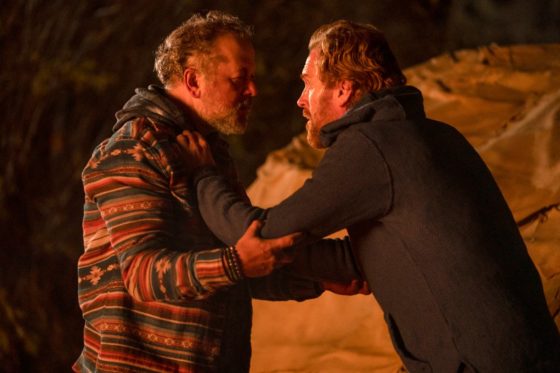 "Kings? They don't blow around, man. They stand there and they take." Axe is back, and he's on the road, scruffy and bearded, on an ostensibly Zen motorcycle trip with Wags, his right-hand reprobate (we're not judging). In a tent with a shaman, they trip out on ayahuasca, a psychedelic popular in all the places you'd expect—Hollywood, Silicon Valley, Brooklyn.
There's vomiting and visions, and Bobby Axelrod (Damian Lewis) promises the shaman they will "move your knowledge into the world." We guarantee he's already working out the possible returns on moving such knowledge to Wall Street.
The trip is cut short when Wags (David Costabile) gets a note that Vanity Fair wants Axe for a cover story it's doing on "The New Decas," as in, people who are worth $10 billion. It's also the title of the premiere episode (written by creators Brian Koppelman and David Levien, directed by Matthew McLoota).
Hitting such a rarefied height—there are only about 155 people in the world worth that much or more, according to Forbes—leaves him feeling empty, though. Bobby's ego won't let him rest on his success.
That ego is going to push Axe to explore a number of alternative investments, one of this season's recurring themes. One of the recurring themes of these recaps is to be cheerful pedants, pointing out where the writers go right and wrong in their portrayal of the world of high finance (a topic with which we are somewhat familiar).
That brings us to upstate New York. Chuck Rhoades (Paul Giamatti) is now the state's attorney general and his deputy Kate Sacker (Condola Rashad) leads a team of Windbreakers into a warehouse filled with glowing computers. These are "mining rigs," specialized computers built for a single purpose: to "mine" the digital currency bitcoin.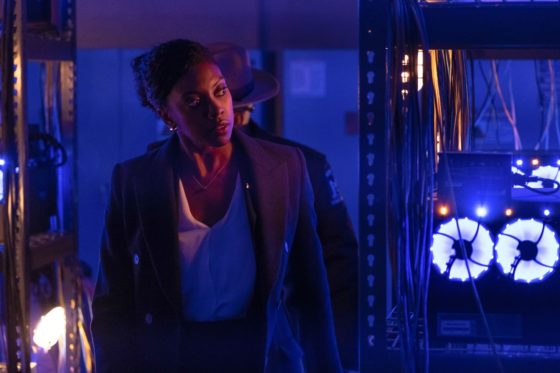 If you're not familiar with it, bitcoin is really just a computer program that runs on a network of linked but independent computers, each running a copy of the same program. Miners operate those computers, in exchange for a reward of newly minted bitcoin. They also compete against each other for those rewards. The program has a built-in disincentive to keep any of them from trying to take over the network: It's insanely expensive to run the program.
Processing transactions involves solving an absurdly complicated and random math equation. You need a lot of computing power that eats a ton of energy. It also means one of their main preoccupations is finding the cheapest energy source they possibly can.
In real life, upstate New York became a popular destination for miners because it's the biggest hydroelectric power producer east of the Rockies. And, yes, as the show portrays, real-life miners did eat up a lot of electricity, in some cases forcing towns to buy power outside their existing contracts with the state power authority. That drove up costs for residents, which they did not appreciate.
So on the series, when Chuck and Kate confront the crypto-nerds, and show that chart with the red spike from their warehouse operation, well, Chuck's right. Mining operators did suck up a lot of energy. One real-world miner, a company called Coinmint, was eventually squeezed out of one town, Plattsburgh, where it had set up shop. The town put a moratorium on miners, and demanded a higher rate on electricity from the company.
But Coinmint was never dragged into an interrogation room. In the real world, miners aren't operating in secret inside abandoned warehouses. They approached towns openly, promising to bring business and jobs with them. They even pitched your correspondent, hoping to get a story. (Note: I never did it.)
So the story line that Chuck busted the crypto-nerds for stealing power doesn't really line up with the real world. But give poor Chuck a break. His wife, Wendy (Maggie Siff) is finally ready to leave him. His father's wedding threw him for another loop.
But he still has one true North Star: hating on Bobby Axelrod. Apparently, Axe has organized some "hedge fund consortium" to bankroll these crypto nerds. Chuck is going to squeeze them.
It's not unheard of for hedge funds to work together. And it's not unusual for venture capital and other investors to get involved in crypto. Peter Thiel's hedge fund, for example, has been there since at least 2018. But they've invested in legitimate, legal companies.
But even assuming Chuck has a legally valid reason to arrest the miners, why would Axe bankroll an illegal bitcoin mining operation? We get that a theme this season is Axe Capital widening its investment net. But to make Axe-and-partners money from mining you'd need to be one of the biggest bitcoin miners in the world (which, incidentally, are all in China). You can't achieve that kind of scale by skulking around dank warehouses stealing juice.
So the risk-reward just isn't there, unless there's some other motive at work here—and "Billions" is nothing if not a show that revels in multilayered schemes.
A cleaned-up Axe arrives for his ego-feeding Vanity Fair shoot only to discover he's sharing the set with eight other "decas," including smug Mike Prince (Corey Stoll). Prince is possibly even more successful than Axe—he runs his own conference, called without an ounce of humility the Mike conference.
Read the rest of the original article at Wall Street Journal