Brother Against Brother For a Good Cause
by Gingersnap | damian-lewis.com | May 15, 2021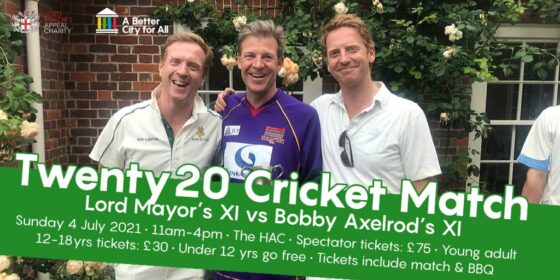 L to R: Brothers Damian Lewis, William Russell, and Gareth Lewis
The Rt Hon The Lord Mayor of the City of London Alderman William Russell is hosting a charity cricket match on Sunday, 4 July 2021 in aid of The Lord Mayor's Appeal. Set within the grounds of the Honourable Artillery Company and against the stunning backdrop of the historic Armoury House and buildings, this Twenty20 match will see the Lord Mayor's 11 (captained by the Lord Mayor William Russell) go into bat against Bobby Axelrod's 11 (captained by Damian Lewis).
Damian told Cricket World, "My brother and I have grown up together enjoying both playing and watching cricket and I think we are both looking forward to getting back out on the pitch, and raising some money for the charities. My team, Bobby Axelrod's 11, are getting in their practice now so we will be ready and raring to go!"
10:30 am – Cricketers and spectators arrive
11:00 am – First innings – Lord Mayor's 11 vs Bobby Axelrod's 11
12:30 pm – Break
1:00 pm – Second innings – Lord Mayor's 11 vs Bobby Axelrod's 11
2:30 pm – BBQ lunch
4.00 pm – Finish
For more information or to purchase tickets, please visit Lord Mayor's Appeal website here.
Player sponsorship – £1,000 per player
Player will join a team and can also bring two additional guests to attend the whole day.
Spectators – £75 per person
Includes BBQ lunch, children under 12yrs free, young adults 12-18yrs reduced ticket price of £30
To enter a player or to buy spectator tickets, please complete and submit the registration form below. For further questions about the event please contact events@thelordmayorsappeal.org.
Additional Source: Cricket World