Henry and Cromwell
by Rebecca Jones | BBC News | May 20, 2021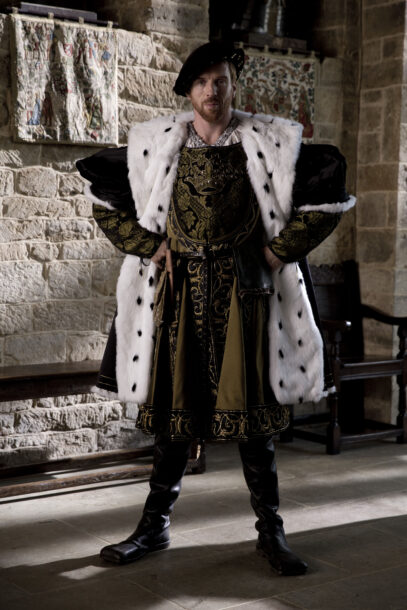 Dame Hilary, 68, is a shrewd observer of political drama that spans the ages. "I think what my books have tried to show is that there is no life without politics," she says.
She has been immersed in Tudor politics for more than 15 years, working on her Wolf Hall trilogy of historical novels about the plots and intrigues at the court of King Henry VIII and the rise and fall of his chief adviser Thomas Cromwell.
Dame Hilary has spent the past year writing the play of The Mirror and the Light herself. She says she wanted to "give it a go".
But, perhaps surprisingly for a writer of 14 works of fiction and a memoir, she was not sure she could do it on her own.
"Although I'd written plays for radio… I've not written a whole stage play by myself. I felt my inexperience," she admits. "I thought, 'I need a collaborator.'"
Ben Miles, who starred as Cromwell in the Royal Shakespeare Company productions of Wolf Hall and its sequel Bring up the Bodies, suggested himself as "co-pilot" on the project.
The television adaptation of The Mirror and the Light is on its way too. "It is going ahead. It's being written now, but delayed by Covid like everything else," she says.
It is therefore unlikely to be on our screens before 2023. "It's just a question of patience." The previous BBC TV adaptation of the first two books – which was entitled Wolf Hall but brought together Wolf Hall and Bring up the Bodies – won two Bafta TV awards, and a Golden Globe.
She says she "would certainly hope" that Sir Mark Rylance, who played Cromwell in the BBC series and Damian Lewis, who appeared as Henry VIII, will be able to return to their roles, although "these are busy people with big schedules and it will all be a question of timing".
While all three books will eventually make it on to the stage and screen, there was to be no historic triple Booker Prize win for Dame Hilary.
She triumphed in 2009 for Wolf Hall and again in 2012 with Bring up the Bodies, making her the first woman to win twice. But The Mirror and the Light failed to make the shortlist.
She was, she says, disappointed. But not for long.
"I experienced that falling sensation for all of five seconds. And then I thought, onwards and upwards, because I breathed out and I thought, now I can get on with different things. I can actually move on.
"I was glad to be free."
Read the rest of the original article at BBC News