Members Only
by Gingersnap | damian-lewis.com | July 7, 2022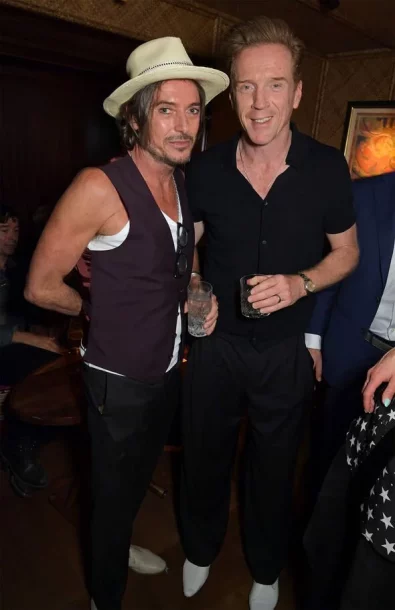 Damian was in good spirits last night at the private member's club, The House of Koko's, inaugural summer party in London. The beautifully designed new member's club is set backstage at London's iconic Koko theatre, which reopened in April of this year and Damian attended that event as well here.  The last night's summer party included an impromptu live jam in the Penthouse where musicians and artists entertained members and guests in one long live session as club-goers danced.
Others in attendance were Jamie Hince, Alison Mosshart (both band members of The Kills), Ellie Goulding, singer Dionne Bromfield and film director Darren Strowger seen pictured here. Familiar faces as Damian, Helen McCrory and Darren Strowger all attended the Bob Dylan and Neil Young's British Summertime Gig in the Teen Cancer America Suite at in Hyde Park in July, 2019. Read about that here. Also, Damian and Strowger attended last year's UEFA Euro Final together and you can view photos of that 2020 event here.
View more photos of the Koko event in our Gallery here
The history of the site dates back 122 years, when it debuted as The Camden Theatre in 1900. In the 70s and 80s, it became a live music venue (initially as The Music Machine, then in its next life as Camden Palace), before Koko CEO and Creative Director Olly Bengough took charge in 2004. In March 2019, having seen greats like Prince, Amy Winehouse, Janelle Monae and Dua Lipa grace its famous stage, Koko closed its doors for an extensive revamp. And now, after a fire in 2020 set the project back and the pandemic put the brakes on live entertainment, the reimagined destination finally debuted following a three-year, £70-million overhaul. The revamp nods to Koko's rich history with its restored Victorian theatre still the beating heart of the space – albeit now revived as part of an ultra-modern, 50,000-square-foot venue.
The shining attraction of the relaunch is its chic new member's club. It extends across four floors, encompassing three sleek new restaurants, a rooftop terrace (set on original theatre roof), a penthouse and recording studio, piano room, library, secret speakeasy, cocktail bar and hidden vinyl rooms, among other perks.
For more information about The House of Koko, visit their website here
Source: Daily Express
Secondary Source: Tatler