Espionage Series Hits MGM+ in March
by Charles Barfield | The Playlist | February 2, 2023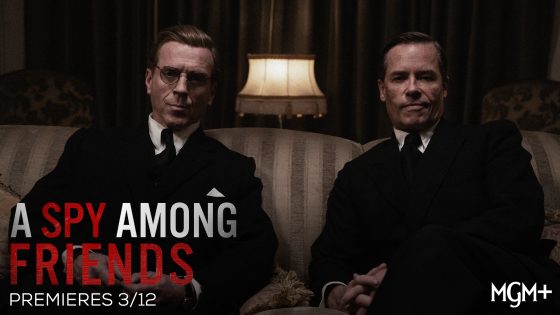 Being a spy requires a lot of discretion. You have to not only keep most of what you do at work a secret, but you sometimes even have to lie to those closest to you to protect that work. But what happens when your best friend is also a spy? And not only that, what if that best friend who is a spy might also be a double agent, working for the enemy? That drama is what propels the plot of the new limited series, "A Spy Among Friends."
Based on a true story, "A Spy Among Friends" follows two men, both spies, Nicholas Elliott and Kim Philby. As mentioned above, these two are lifelong friends who also work in British intelligence. But when Elliott begins to suspect Philby might be actually working for the Soviets, you can imagine their friendship is tested beyond belief.
The limited series stars Damian Lewis, Guy Pearce, Anna Maxwell Martin, Stephen Kunken, and Adrian Edmondson. "A Spy Among Friends" is created and produced by Alexander Cary. The writer-producer is probably best known for his work in TV series such as "Homeland," "Taken," and "Lie to Me." His work on "Homeland" won him a Primetime Emmy award in 2012.
"A Spy Among Friends" debuts on MGM+ on March 12. You can watch the trailer below.
Here's the synopsis:
Based on the New York Times best-selling book written by Ben Macintyre, this six-episode limited series dramatizes the true story of two British spies and lifelong friends, Nicholas Elliott and Kim Philby. The latter became the most notorious British defector and Soviet double agent in history. Philby's deeply personal betrayal, uncovered at the height of the Cold War, resulted in the gutting of British and American intelligence.
Read the rest of the original article at The Playlist