Happy Birthday and All That Jazz
by Gingersnap | damian-lewis.com | February 11, 2023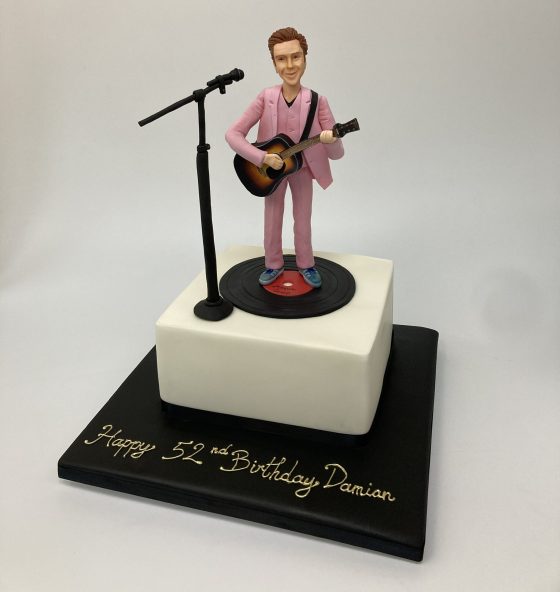 Cake Damian received on behalf of Fan Fun with Damian Lewis Team and the Fandom
Today Damian Lewis turns 52! Happy Birthday Damian, from the Fan Fun with Damian Lewis Team and all the fandom around the world! Every January the Team begins contemplating what we can do differently to celebrate Damian's birthday in February and year after year we strive to be creative and unique. But I kid you not, last year when we organized the 51 Birthday Cakes we immediately knew what we would do this year. With our idea set in motion the goal remained the same: to bring a smile to Damian's face. What better way to do that than to gift him 52 drinks! We planned, conspired and mobilized the fandom in the back channels of Twitter, Instagram or Facebook DM's, as well as e-mail, to accomplish this secret project.
The task was simple – if Damian were a drink, what would he be? Fans shared their drink of choice and a virtual toast to the birthday boy and now we're sharing it with all of you. The possibilities were endless, from cocktail to mocktail, hot or cold, traditional or creative, a national drink, a favorite wine, tea, or beverage, or a cocktail of their own creation inspired by a favorite film/theatre/television show or a character Damian played.
The project was easy, fun and most importantly, our mixologists could drink the result! Read along with us as we share photos of each drink, the bartender's name and location, ingredients and theme. Oh, and there is a surprise at the very end waiting for you. On behalf of the entire Fan Fun with Damian Lewis Team, we want to thank all those who participated.
Welcome to the Fan Fun Pub, a virtual drinking establishment – view all 52 celebratory drinks here! View more photos of the cake and its inspiration here.