Preview: Riveting Cat-and-Mouse Conversations
by Kate Hahn | TV Insider | February 24, 2023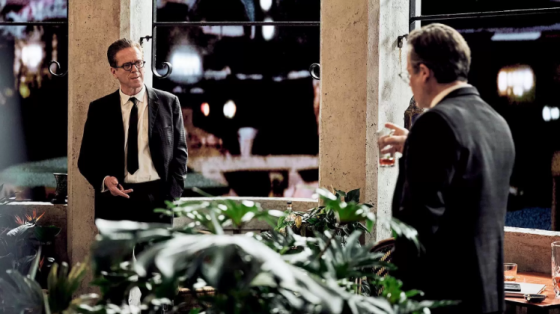 If you learned your closest friend was a spy, would you help him evade justice? That's the looming question in A Spy Among Friends, a slow-burn adaptation of Ben Macintyre's nonfiction bestseller about an infamous U.K. traitor.
The limited series opens in 1963 with reserved British intelligence man Nicholas Elliott (Damian Lewis) being questioned by no-nonsense Lily Thomas (Anna Maxwell Martin) of the U.K.'s domestic intelligence agency MI5. The topic: Elliott's role in the defection of his chum since the '40s, charming Kim Philby (Guy Pearce), who has been outed as a double agent.
Recruited by the Soviets as a university student at Cambridge in 1933, Philby rose to become head of counterespionage for MI6, the foreign intelligence unit that also encompasses the U.K. Which meant he was in charge of rooting out traitors like himself!
There's a good reason suspicion has fallen on Philby's buddy: The spy escaped a Beirut safe house where Elliott had been tasked by higher-ups with interrogating him. Sending Elliott "was about keeping it in the old boys' network," says director Nick Murphy. "Our drama centers on what the hell happened."
The British Lewis (Billions) welcomes the new angle on his country's famous case. "Everybody knows about Kim Philby. He's the rock star: poisonous, devastatingly dangerous, brilliant, adored. He hoodwinked an entire generation. Elliott's the best friend. Who knows about the best friend who was duped? He's the sap, the second guy. The friendship is brilliantly interesting."
The history of that brilliantly interesting friendship is revealed in flashbacks set in a high-stakes world. Case in point: Early in the men's acquaintance, a World War II London Blitz bomb strikes their exclusive social club. Philby effortlessly pivots from charismatically holding court to treating the wounded — and barely rumpling his tuxedo in the process. His aplomb impresses, and rallies, a shocked Elliott.
As the story hops to Moscow, Berlin, Vienna, and Washington, D.C., Lewis and Pearce are at their understated best as actors. "This isn't a drama you can do your knitting while watching," Murphy cautions. "You've got to pay attention. There is so much duplicity; there's an engaging, active role for the audience."
As viewers use their intellect to piece it all together (all the way up to the pair's riveting cat-and-mouse conversations in that safe house), Pearce (Mare of Easttown) hopes the opposites-attract friendship will strike an emotional chord. "We're all intrigued by the world of spies," he says. "But none of us have the courage to actually live in it. Friends betraying — or keeping secrets from — close friends is something we can relate to."
A Spy Among Friends premieres Sunday, March 12th on MGM+ (formerly Epix).
Read the rest of the original article at TV Insider