Makin' Plans with Gemma Cairney
by Gingersnap | damian-lewis.com | June 1, 2023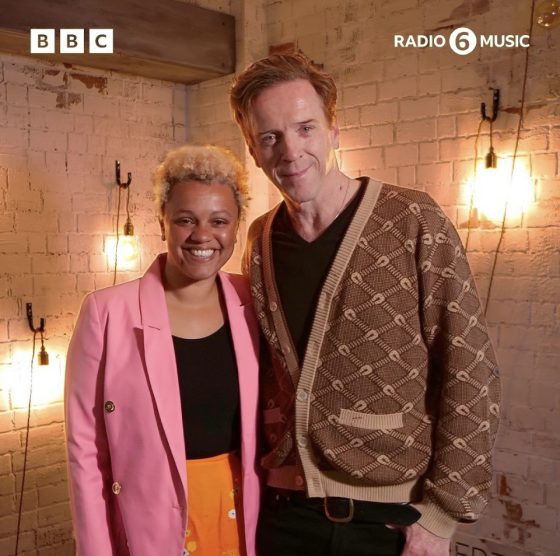 Gemma Cairney sat in on Lauren Laverne's BBC Radio 6 Music segment with Damian this morning and Gemma reported it was a pleasure to have him in the studio! His song 'Makin' Plans' was broadcast as number 30 during the 38-tracklist programme with his interview here beginning around 2:05:54. The broadcast is only available for 28 days on BBC Sounds so catch it now!
Damian spoke about working with jazz musician Giacomo Smith and Kansas Smitty's band, his three singles 'Down on the Bowery,' 'Zaragoza' and 'Makin' Plans' that have been released on several platforms and described his signature sound as a hybrid of rootsy, singer-songwriter bluesy, rock-n-roll music.
Damian revealed that he is absolutely loving the music trajectory he is on, sharing "…it has been liberating doing this" and "writing a song or an album is a bit like a journal entry, so it's going to reflect that period of time in your life and this album does that." Damian also divulged that he writes his music using a steel 6-string and a little bit of piano, with musical inspirations from "Elvis, Neil Young's acoustic material, JJ Cale and Bowie." His single 'Makin' Plans' is the one song in which he plays electric guitar.
He explained the meaning behind the title of his debut album Mission Creep, (a gradual shift in objectives during the course of a military campaign), liking it to himself as an actor with a mission that has crept into the music business, "…a cross-fertilization in the arts."
He went on to state, "I didn't think I'd be coming back to it [music], but I'm glad I have." The album is set for release on June 16, 2023 and can be pre-ordered from several outlets here. Upcoming shows include Black Deer Fest on June 16, Rough Trade East (includes album signing!) on June 19 and Union Chapel on July 11 in London. Don't miss out, get your tickets now!
So I've written some songs and it's turned into an album. Who knew?? Writing, curating and designing the album has been a lot of fun. Sure it's a risk changing lanes, people don't always like it…..but I hope YOU like it….. Mission Creep out June 16th. pic.twitter.com/I3wKc9grgg

— Damian Lewis (@lewis_damian) June 5, 2023
As for his acting, Damian shared he will begin filming the vampire movie The Radley's this Monday, June 5, 2023. Enjoy his three official music videos below:
Down on the Bowery
Zaragoza
Makin' Plans
'Mission Creep' Album – Damian Lewis Music Store (UK) here
'Mission Creep' Album – Damian Lewis Music Store (US) here
'Mission Creep' Album – Several music services here or Target
'Down on the Bowery' – Apple Music, iTunes, Spotify, YouTube, Amazon and more here
'Zaragoza' – Pandora, Tidal, Spotify, YouTube, Amazon and more here
'Makin' Plans' – Napster, Pandora, Tidal, Spotify, iTunes, Amazon and more here