She Comes
by Gingersnap | damian-lewis.com | June 9, 2023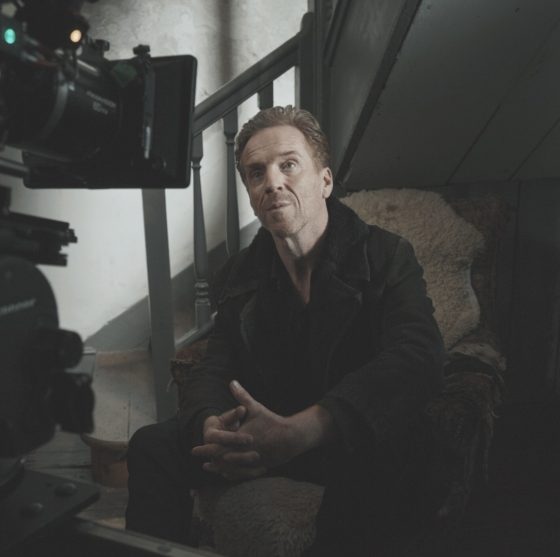 Photo by Emma Giacalone for Squire Studio
Today Damian released his fourth single and official music video, this time for the track 'She Comes' shot by Squire Studio on March 16, 2023 and directed by none other than Nick Murphy, the same director for Damian's recent MGM+ and ITVX mini-series A Spy Among Friends. Location of the music video shoot was Master Shipwright's Palace in Deptford, London, off the banks of the River Thames. The venue is described as "a peculiar new theatre in Deptford's secret palace" that is "10 minutes from London Bridge." View more behind the scenes photos from the video shoot in our Gallery here.
Damian recently shared with Stereo Board,
"She Comes is the first song I wrote for my debut album, so that makes it… my first song (That I've shared with the world, at any rate….). It's about ghosts, and one ghost in particular. The album has hybrid sounds all through it, but this song leans heavily on a folk set up before crescendoing with a jazz feel brought by my brilliant band."

As for the video: "We hoped to convey the feeling of an abandoned house, of the ghost of the woman that once lived there and a group of friends gathering to celebrate her."
Damian's debut album Mission Creep is set to be released June 16, 2023 and can be pre-ordered from several outlets here. Upcoming shows include Black Deer Fest on June 16, Rough Trade East (includes album signing!) on June 19 and Union Chapel on July 11 in London. Additional UK Tour 2023 dates announced here. Don't miss out, get your tickets now!
'She's the breeze
She's the sun
She's the reason it was fun
The laughing rain
She's the wind and the storm
What I sheltered from
She's my joy she's my pain
And she rained on me'

'She Comes', out next Friday. pic.twitter.com/l5S88dTept

— Damian Lewis (@lewis_damian) June 2, 2023
'She Comes' Official Music Video
Source: Squire Studio
Secondary Source: Shipwright
Tertiary Source: YouTube
'Mission Creep' Album – Damian Lewis Music Store (UK) here
'Mission Creep' Album – Damian Lewis Music Store (US) here
'Mission Creep' Album – Several music services here or Target
'Down on the Bowery' – Apple Music, iTunes, Spotify, YouTube, Amazon and more here
'Zaragoza' – Pandora, Tidal, Spotify, YouTube, Amazon and more here
'Makin' Plans' – Napster, Pandora, Tidal, Spotify, iTunes, Amazon and more here
'She Comes' – Spotify, YouTube, Apple Music and iTunes here