"It's hard to find the people in positions of power who don't at least dance with hypocrisy"
by Tonya Riley | Mother Jones | March 16, 2019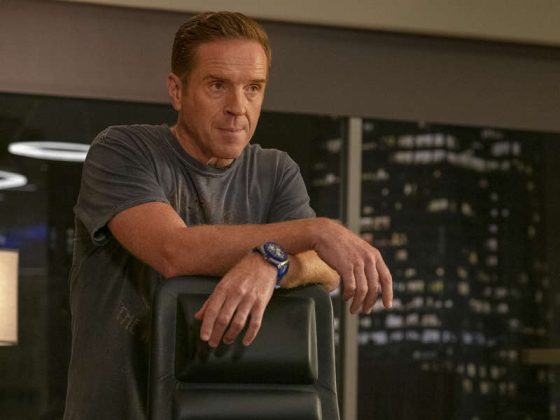 Billionaires, Saudi investors, political favor-trading —it sounds a lot like the basis of a Mother Jones article on any given day under the Trump administration. But in fact, it's the logline for the season premiere of Showtime's Billions, a surprise hit that is as comfortable being part of the Golden Age of television as it is commenting on a politically turbulent time.
The show stars Paul Giamatti as Chuck Rhoades, former US Attorney for Southern District of New York, and Damien Lewis as Bobby Axelrod, an unorthodox, up-from-his-bootstraps-sort-of hedge fund manager at Axe Capital. They're joined by Maggie Siff as Wendy Rhoades, wife to Chuck and psychoanalyst at Axelrod's company; she further complicates their relationship (and often calls the shots for them both). The drama, which was loosely based on the legal battle between Preet Bharara, a former US attorney for the same district Rhoades serves in Billions, and billionaire Steve Cohen, a hedge fund manager who escaped indictment despite being at the heart of a massive insider trading scandals, has evolved over four seasons into must-watch television that evokes the politics of today without the didactic morality of, say, an Aaron Sorkin venture. The show is smart, sexy, and dark, and vest-wearing finance bros and media hipsters alike count themselves among its fans.
Mother Jones called up co-creators Brian Koppelman and David Levien in advance of season four to discuss America's fascination with the rich and powerful and how they keep their show fresh in the mercurial age of Trump.
Continue reading Why the Creators of Billions See the Show as a "Rorschach Test" for the Trump Era – March 16, 2019