Theater of War Productions Presents Virtual Event: Ajax and Philoctetes
by Gingersnap | damian-lewis.com | October 16, 2020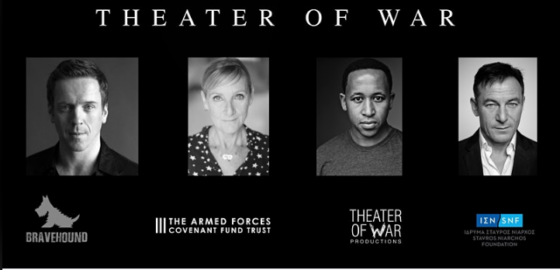 UPDATE: To view photos of the event, view our Gallery here.
This is a dramatic reading of scenes of Sophocles' Ajax and Philoctetes to catalyze guided discussions about the visible and invisible wounds of war. Featuring performances by Damian Lewis, Lesley Sharp, Nyasha Hatendi, and Jason Isaacs. Translated and directed, and facilitated by Bryan Doerries. You must register for free tickets here or here.
Date And Time:
Friday, November 6, 2020
1:00 PM – 3:30 PM CST
2:00 PM – 4:30 PM EST
7:00 PM – 9:30 PM BST
This special event is a collaboration with Bravehound, a Scottish charity that supports veterans and their families in the United Kingdom. We are proud to open this event up to the public, fostering healing dialogue with the Bravehound community. Bravehound supports former servicemen, women and their families by providing training and dogs to veterans. Visit Bravehound's website here.
Continue reading Damian Lewis Returns to Theatre AGAIN: Sophocles' Ajax and Philoctetes Project UK – Oct 16, 2020