CURE EB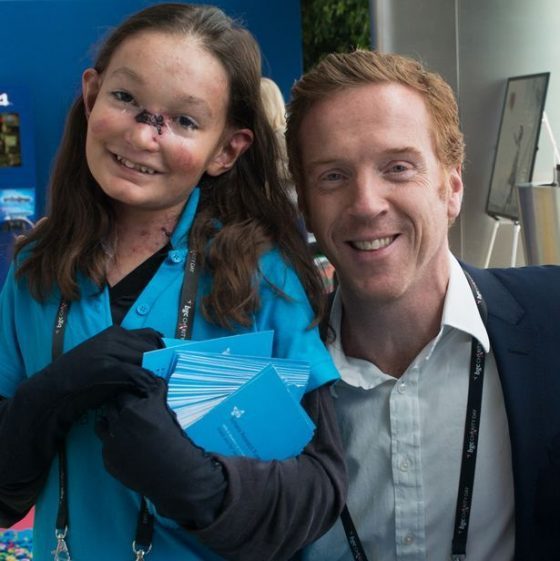 Damian Lewis is a proud patron of Cure EB.org, formally known as Sohana Research Fund. Sohana Collins is a young teenager who was born with recessive dystrophic epidermolysis bullosa (RDEB or EB), which means she lacks the protein that holds her skin together. Children with EB have extremely fragile skin that they are sometimes called "butterfly children." For more information follow them on Twitter and Facebook or donate here.
Videos:
Message From Damian (2014)
EB Tongue Twister Challenge (2014)
EB Tongue Twister Challenge 2 (2015)
Damian Interviews Professor John McGrath (2015)
Stick Out Your Tongue At EB (2016)
GFI Charity Day-Damian the Trader (2017)
EB Pop to Make the Blisters Stop (2018)
Coffee to Cure EB Campaign (2023)
THE PRINCE'S TRUST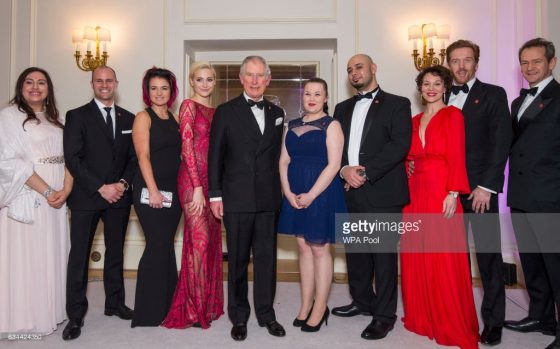 Damian is an ambassador for the youth charity The Prince's Trust. The Prince's Trust gives practical and financial support to young people who need it the most: 14- to 30-year-olds who have struggled at school, have been in care, are unemployed, or have been in trouble with the law. The Prince's Trust runs programs that aid and train young people in developing life and workplace skills that will better allow them to pursue work, education or training.
Click here for information on the various ways you can donate to The Prince's Trust.
YouTube Videos:
Berkeley Square Ball (2005)
Prince's Trust "Celebrate Success" Awards Ceremony (2008)
30th Anniversary of Prince's Trust Enterprise Programme (2013)
HvH ARTS FOUNDATION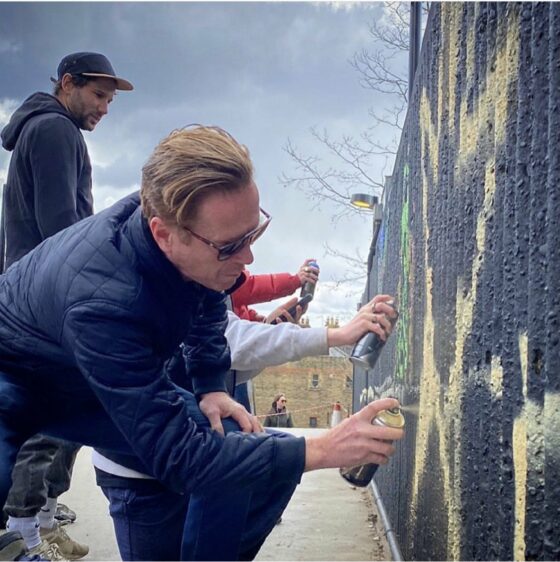 To carry on Helen's legacy, Damian supports the Sir Hubert von Herkomer Arts Foundation (HvH Arts), a registered charity that facilitates a gateway to the arts for 5–18 year old children and young people by providing them with the inspiration and tools to develop lifelong artistic passions. They are a team of teachers and arts professionals offering a series of ten-week courses at after-school clubs and during school holidays. The courses cover subjects in all medium of the arts, graffiti street art, photography, film making, music sculpting, drama, song writing and poetry. For more information, please visit their website here. In honour of Helen's memory, the HvH Arts Foundation introduced the "McCrory Award" in 2021, which will be dedicated to supporting gifted children from disadvantaged families who do not have access to the resources, training and income to fulfill their creative arts potential.
FEEDNHS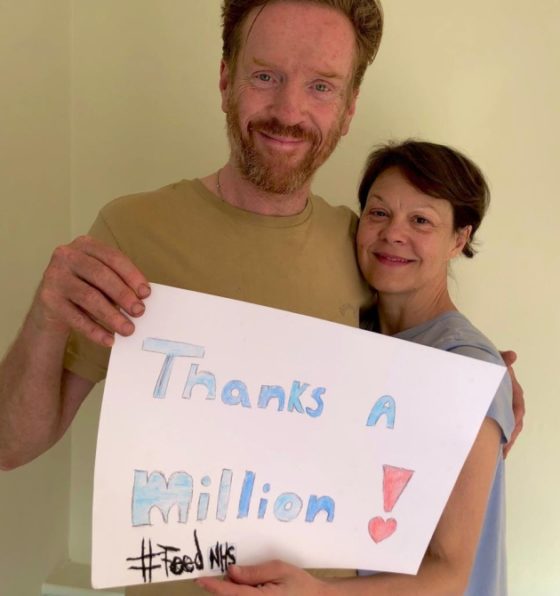 FeedNHS is a non-profit campaign founded by Damian Lewis, Helen McCrory, Matt Lucas and John Vincent of
Leon restaurants to raise money to feed NHS workers during the Coronavirus pandemic of 2020. FeedNHS launched on Friday, March 27, 2020 and soon after partnered with Feed Our Frontline, Baxterstorey, and MealForce. Together, this coalition is now delivering 40,000 meals a day to 88 hospitals in Greater London, Manchester, Glasgow, Aberdeen, Edinburgh, Cardiff and others nationwide. For more information, please visit their website here.
SCENE & HEARD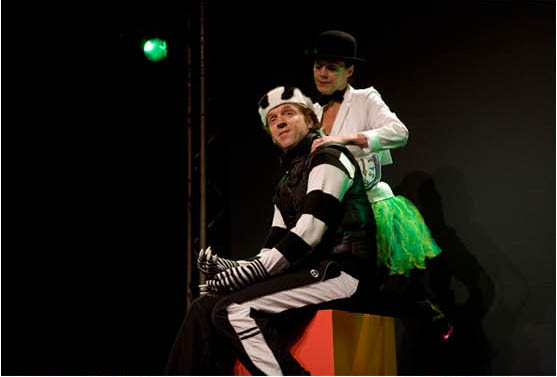 Damian is a patron of the charity Scene & Heard, a unique mentoring project for inner-city children in Somers Town, London. The goal is to have these children experience success and have increased self-esteem via developing their playwriting and drama skills. The charity teams children with a volunteer theatre professional to write short plays and professional actors perform these plays in front of enthusiastic audiences. You see patrons Damian Lewis and Helen McCrory performing in a Scene & Heard play in 2010 in the picture above.
YouTube Videos:
Scene & Heard (2011)
CHRISTIAN AID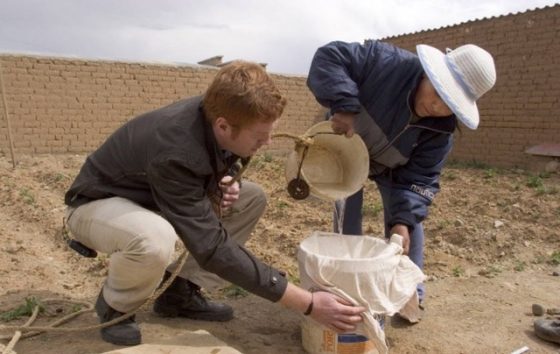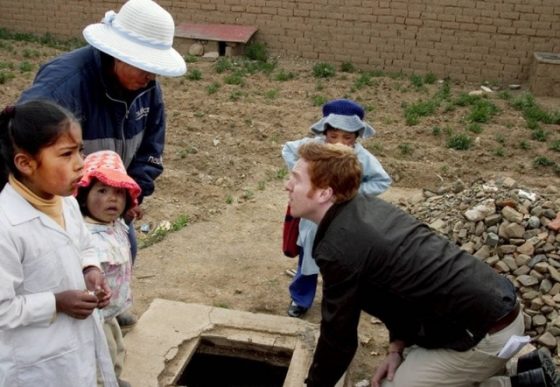 Damian Lewis is an ambassador for the (non-denominational) Christian Aid organization, a UK and Ireland based charity that funds projects in some of the world's poorest countries.  In 2005 Damian traveled with Christian Aid to Bolivia, the poorest country in South America, to investigate the forced privatization of essential services, including the water supply. A documentary of his trip can be viewed on YouTube here. You can also download various other clips in support of Christian Aid activities from the Multimedia section below.
Click here for information about making a donation to Christian Aid.
Downloads: Wake Up to Trade Justice l Bolivia for Sale l Daily Politics Interview l BBC TV News Interview l BBC Radio Five Live Interview l "The Beat Goes On" campaign video 
MISCELLANOUS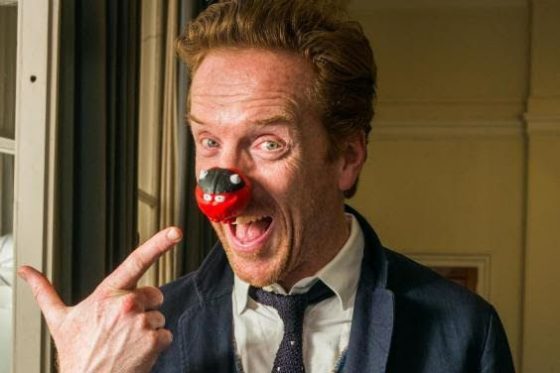 Other charitable efforts include Soccer Aid and Red Nose Day. To learn more about these and other charities Damian supports, read Designing His Own Philanthropy Part I and Designing His Own Philanthropy Part II.
Jump to Biography, Filmography, Awards and Nominations, Honors, Theatre Archives, Fan Mail or Message from Damian