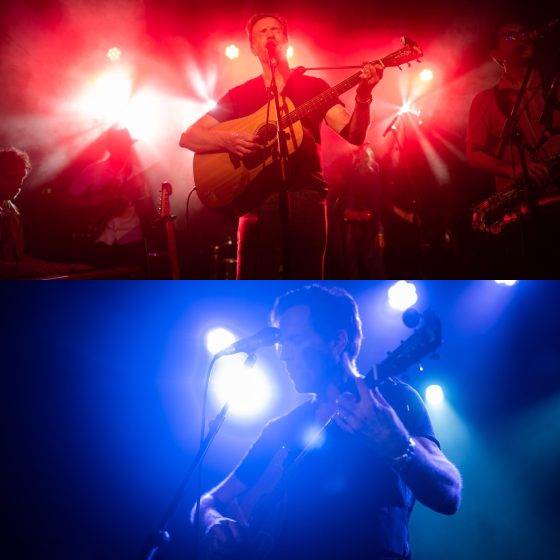 Damian has played the classical guitar since he was 13-years-old. Quickly though, suspecting that he might be the "Second Elvis," he graduated to the steel string acoustic so that he could sing Elvis in the mirror without fear of interruption. Busking in London through his early twenties, the rent money started coming in from acting and the guitar was parked up as a hobby until the time of CoVid lockdown and quarantine.
Meeting with various London-based musicians, including Giacomo Smith, Damian wrote songs and found himself in the recording studio cutting tracks that will be released on his debut album titled, "Mission Creep." The album will be out in the summer of 2023. His band of five has jazz roots and the album is described as a bluesy sound, with originals and a few covers.
GIGS
Omeara London, Thursday, August 4, 2022
Omeara London Gallery here
Special guest at his Omeara gig was the wonderful vocalist and Tomorrow's Warrior alumnus Cherise, who has worked with Kurt Elling and Gregory Porter.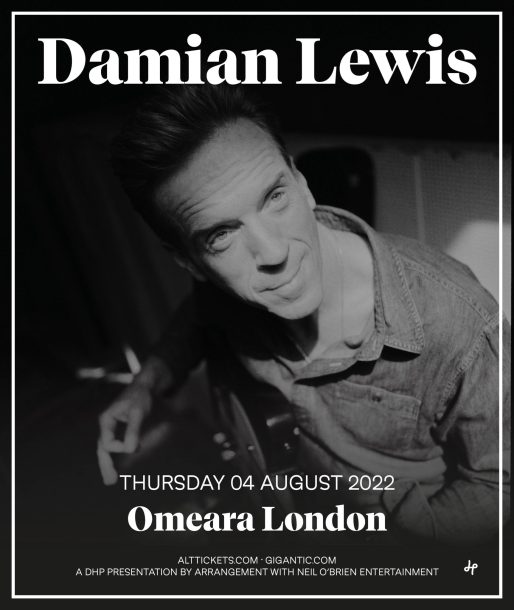 Wilderness Festival, Sunday, August 7, 2022
Wilderness Festival Gallery here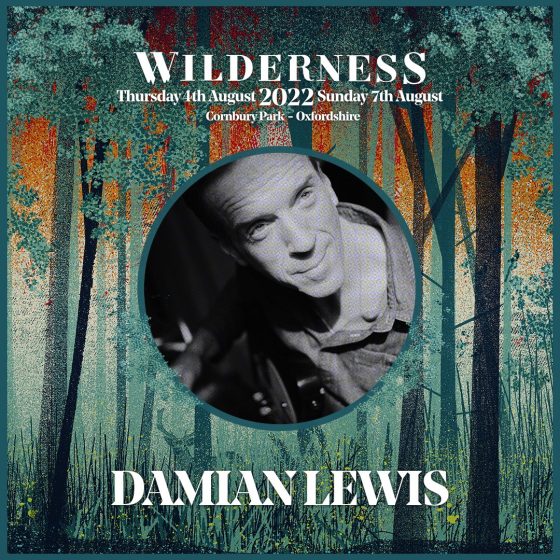 London Jazz Festival: The Tabernacle London, Sunday, November 20, 2022
The Tabernacle London Gallery here
With special guest Hattie Whitehead

World Economic Forum in Davos, Switzerland, January 16-20, 2023
The WEF Gallery here

Hoxton Hall, Friday, March 3, 2023
The Hoxton Hall Gallery pending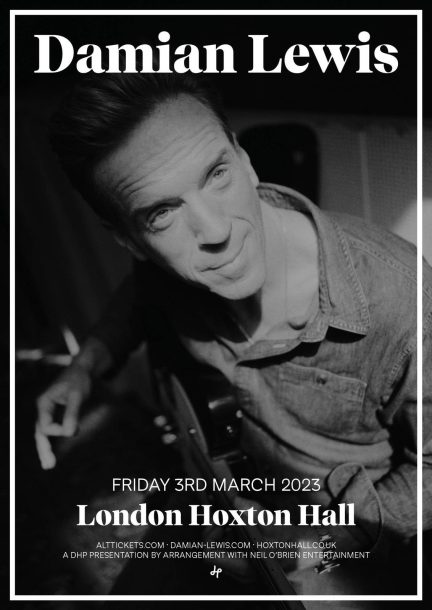 MANAGER:
Steve Abbott – Harmonic Artists
PROMOTIONS:
DHP Family
Neil O'Brien Entertainment
CURRENT BAND MEMBERS:
Damian Lewis – vocals, acoustic guitar, electric guitar and keyboard
Dave Archer – guitar
Joe Webb – keyboard
Giacomo Smith – alto sax and clarinet
Will Sach – bass
Will Cleasby – drums
Kitty Liv – harmonica and vocals
ALBUM DISCOGRAPHY – ORIGINALS
Title: Mission Creep (June, 2023)
Little One
Hole in My Roof
Zaragoza
Soho Tango
Down on the Bowery
Never Judge a Man by His Umbrella
Wanna Grow Old in Paris
Makin' Plans
Why? (originally Jelly Roll Morton)
She Comes
-more pending-
TOUR DATES
2022
Omeara Club – August 4, 2022 – London
Wilderness Festival – August 7, 2022 – Cornbury Park, Oxfordshire
The Tabernacle – November 20, 2022 – London
2023
World Economic Forum – January 16-20, 2023 – Davos, Switzerland
Hoxton Hall – March 3, 2023 – Hackney
REVIEWS and ARTICLES
Damian Lewis Unveils Live Dates and Details News of Debut Solo Album – Implurnt
Tufnell Park-er Damian Lewis Flexing his Musical Muscles – Camden New Journal
Damian Lewis, Omeara, Review: Passionate Debut From Actor Turned Pop Star – The Telegraph 
Damian Lewis Review: Screen Star Celebrates a Mellow Musical Hinterland – The Times
Damian Lewis Rocked His First Gig at Omeara London – FanFunWithDamianLewis
EFG London Jazz Festival Review – The Times
BAND MERCH
-pending-
VIDEO PERFORMANCES
Song: "Such A Night" – Damian performing the Dr. John classic with Kansas Smitty's Supersize Band, recorded Febraury 23, 2021 from Kansas Smitty's headquarters in East London. Giacomo Smith and Alec Harper on Alto, Camilla George on Tenor, Dylan Jones on Trumpet, Dave Archer on Guitar, Kit Downes on Keyboard, Joe Webb on Piano, Ferg Ireland on Bass and Jas Kayser and Will Cleasby on Drums.
Song: "Little One" – Omeara London Performance, August 4, 2022
Song: "Never Judge a Man by His Umbrella" – Omeara London Performance, August 4, 2022
Song: "Makin' Plans" – Omeara London Performance, August 4, 2022
Song: "Why" – Omeara London Performance, August 4, 2022
Song: "Zaragoza" – Omeara London Performance, August 4, 2022
Song: "Soho Tango" – Omeara London Performance, August 4, 2022
Song: "Hole in My Roof" – Omeara London Performance, August 4, 2022
Song: "Down on the Bowery" – Omeara London Performance, August 4, 2022
Song: "Little Trip to Heaven" by Tom Waits – Omeara London Performance, August 4, 2022
Song: "After Midnight" by JJ Cale/Eric Clapton – Omeara London Performance, August 4, 2022
Song: "Little One" – Tabernacle London Performance, November 20, 2022
Song: "She Comes" – Tabernacle London Performance, November 20, 2022
Song: "Soho Tango" – Tabernacle London Performance, November 20, 2022
Song: "Never Judge a Man by His Umbrella" – Tabernacle London Performance, November 20, 2022
Song: "Zaragoza" – Tabernacle London Performance, November 20, 2022
Song: "Little One" – Tabernacle London Performance, November 20, 2022
Song: "Makin' Plans" – Tabernacle London Performance, November 20, 2022
Song: "Little Trip to Heaven" – Tabernacle London Performance, November 20, 2022
Introductions – World Economic Forum in Davos, Switzerland, January 16-20, 2023
Song: "TBD" – World Economic Forum in Davos, Switzerland, January 16-20, 2023