Thanks a Million!
by Gingersnap | damian-lewis.com | original April 8, 2020 (updated April 24)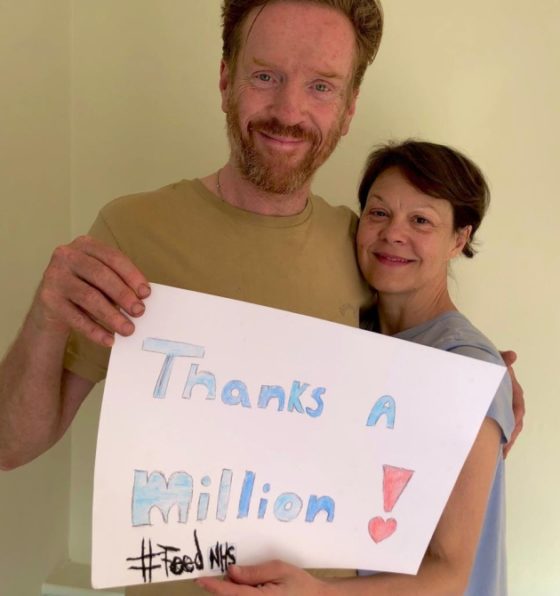 We reported earlier that Damian, Helen, and Matt Lucas had partnered with John Vincent of LEON Restaurants to feed NHS workers during the CoVid-19 crisis.
FeedNHS is campaigning to raise as much money as possible for NHS Trusts to get hot, healthy meals to NHS teams on the front line. They are starting their initiative with the hardest-hit London hospitals trusts Imperial, UCHL, Royal Free and St Barts, but they want to go further and take this nationwide.
And now, FeedNHS has become the fifth largest crowdfunding appeal on JustGiving raising over $1.1m (£1m). The campaign has reached more than 100% of the £1,000,000.00 target (£1,171,495). Initially providing 5,000-6,000 meals a day to hospital staff, FeedNHS now estimates it has the funds to serve up to 25,000 hot meals per day across 55 hospitals for the next six weeks, and looking to expand locations from London to Brighton, Birmingham, Cardiff and Manchester. Damian was quoted in Birmingham Live saying,
"But it means we can now kick in with a second round of funding – which is essentially what we are trying to do – in order to take it to Birmingham, Cardiff and Manchester, because the virus will move through those city centres."
In addition, The Press and Journal reported that FeedNHS has teamed up with Mealforce, BaxterStorey, Feed Our Frontline and charity NHS Helpforce to tackle the task in pledging to serve hospital sites in Aberdeen, Edinburgh, and Glasgow. But they want to keep going, as more funding is needed to add an extra 15,000 meals a day and to extend provision beyond six weeks, providing 600,000 more meals. You can help feed NHS workers one hot, healthy meal a day here.