Sony Makes Multi-Territory Bet on Dream Horse
by Leo Barraclough | Variety | October 31, 2019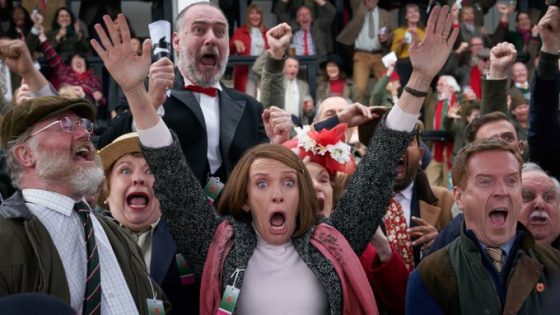 "Dream Horse," starring Toni Collette and Damian Lewis, has been sold around the world by Cornerstone Films, including a multi-territory deal with Sony. The story of a winning racehorse from BAFTA-winning director Euros Lyn also stars Owen Teale, Joanna Page and Karl Johnson.
Cornerstone has closed deals with Welt Kino (Germany), Impuls (Switzerland), Hakuhodo DY Music & Pictures Inc. (Japan) and Terry Steiner (Airlines). As previously announced, Bleecker Street and Topic Studios have jointly acquired the U.S. rights, and Warner Bros. is distributing in the U.K. The Sony deal – inked with Sony Pictures Worldwide Acquisitions – includes rest of world, excluding Canada, Italy and France.
In the film, Jan Vokes (Collette), a cleaner and bartender, recruits her initially reluctant husband, Brian (Teale), and local accountant Howard Davies (Lewis) to help her bring together a syndicate of local people to breed a foal, which they name Dream Alliance. On the racetrack, he proves himself to be more than a match for the multi-million-pound racehorses he comes up against. But more than this, Dream begins to alter the lives of everyone in the syndicate, not least Jan's.
"Dream Horse" is described by Cornerstone as "a classic story of triumph against adversity, and a tale of how a woman strives to make her dream a reality in a place where hope is thin on the ground."
Continue reading Dream Horse Gets Worldwide Release – Oct 31, 2019