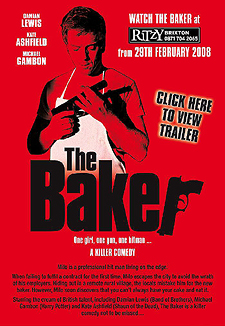 Update on The Baker:

The official website for the The Baker is now online! It includes a gallery with new stills and a contest page to win a free Region 2 DVD of The Baker. Click here at the Warehouse to view the new stills.

Click here to view the flyer promoting the film's February 29th theatrical release release and March 3rd DVD release. Make sure to pass on the flyer and news of the film's February 29th premiere at the Ritzy PictureHouse. Damian Lewis and other cast members hope to attend and the more the merrier!

Click here to read the update from Damian's Picture Farm partner, producer Adrian Sturges.

A few Life notes:

Click here to download a clip from the TV Guide Channel special TV's Hottest New Faces from last year. Both Damian Lewis and Sarah Shahi are featured. You can view it here on Youtube. Thanks to Grimorie and Mina for the find!

Life will
premiere in Italy on the digital tv channel Joi on Feb 20th. Thanks to Claudia for the headsup!

NBC will officially unveil its primetime line-up in early April. Damian appeared at NBC's 2007 Upfront event.