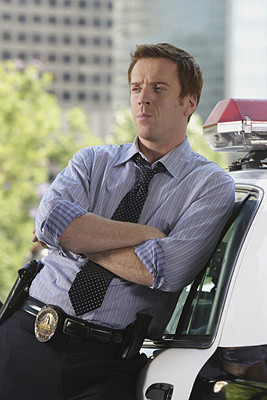 Reminder to you UK ladies: Life debuts with two back-to-back episodes Thursday at 10pm on ITV3: Merit Badge and Tear sunder! If you miss the episodes, they will repeat on Wed, Nov 5th starting at 9pm.
Canadian schedule update: Global TV has also moved Life to Wednesday's. Thanks to Ann for the headsup!

A few press snippets:

» From TV Guide's Our Take blog –

NBC's Life is a great show. Any scoop? – Charlie
Mickey: You've heard the good news that proud parent NBC is moving it from Fridays to Wednesdays, right? If only workaholic Charlie was as considerate a caretaker. Damian Lewis told me that Crews' new paternal relationship with not-so-typical teen Rachel won't be easy for him. "It's important to remember that Charlie is a little cracked," he stresses.

» From The Independent's LA Notebook:

Damian Lewis rudely interrupted my Sunday morning by jaywalking across the road opposite Santa Monica's farmers' market.

The ginger-nut actor was clutching a single white rose which – presuming it was a gift for his actress wife Helen McCrory – raises serious questions about his personal judgement.

As any fool knows, white roses are strictly for weddings and funerals (and are unlucky on other occasions). Did that expensive Eton education teach Lewis nothing?

» Short Radio Times review:

You can't be a proper TV cop without a gimmick or a past. Charlie Crews has both. He went to prison for murder, a crime he didn't commit, and spent 12 years being beaten up by the other inmates and studying Zen Buddhism. Now he's out, with a hefty settlement nestling in his bank, and he's back working as a detective in Los Angeles. Of course he's been changed by his ordeal. He's fond of Zen musings (repeating statements such as "I'm not attached to this car" with great intensity) and is totally out of touch with modern life (a bit like Life on Mars in reverse). As for that gimmick – it's fruit. Crews just loves fresh fruit. Damian Lewis, who plays him, softens these idiosyncrasies by giving Crews a generous, gentle side, too – not many cops would soothingly tell someone they've just shot to "go back to sleep – it's just a bad dream". The result is quirky without being irritating, and intriguing without being too clever. We get a double bill tonight; let's see whether this Life is a long one.