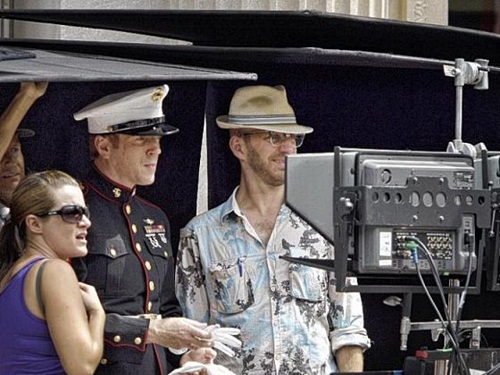 Another on-set picture of Damian – this one from the commercial filmed on Sunday. More below:
The Gastonia filming will be used for commercials to promote the show rather than in an actual episode.

The series, with multiple one-hour episodes, will have star power. Brody is played by British actor Damian Lewis, known for his role in the HBO series "Band of Brothers," among other things. Anderson is portrayed by Emmy Award-winner Claire Danes, while Tony Award-winner Mandy Patinkin also stars.

Lewis sat in the back of a convertible Corvette on Sunday, waving to the hired crowd at the one-block parade.

Since January, much of the filming has taken place in Charlotte. Producers chose the Queen City because the architecture of its South Park region is similar to that of suburban Virginia, where the series takes place, and because the uptown area resembles parts of Washington, D.C.

The filming in Gastonia was anticipated to bring 200 to 300 people to town, including film crew members and extras. The production company rented out the former Downtown Dino's building on South Street, owned by Charlie Gunn, as a catered hospitality site for everyone involved.
Read the rest at the Gaston Gazette.
More:
Charlotteobserver.com – Showtime for 'small town USA': Gastonia