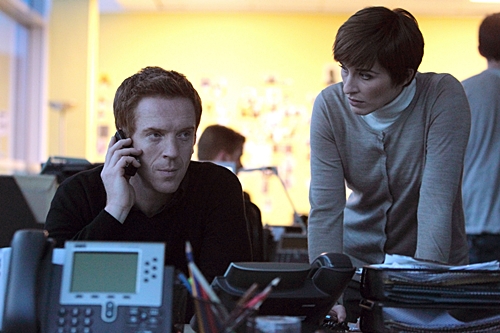 New preview and article from the Telegraph:
So in the opening scenes we meet Rosemary, an African girl who has just landed at a British airport. On arrival, she follows the instructions from her "buyers", flushing her passport away so that she is effectively untraceable. From that point on, the gang has the upper hand, explains Lewis.

The actor prepared for his role by shadowing a real-life human trafficking unit in London. If there are reasonable grounds to suspect trafficking, "the child will find some measure of safety within a government house," he explains. "If not, they go to private carers."

The child – in this case Rosemary – tries to escape from her carers so that she can contact the gang on a memorised number (they plan to make her a house servant, with a view to selling her on as a sex worker when she is older). The whole process is oiled by fear, says Lewis. "It's especially hard with these African girls because they will have had 'juju' rituals performed on them [before the trip], to make them believe they'll die if they don't follow orders," he says. "These are girls who have had blood taken from them, mixed with hair cuttings and nail clippings. They're then doused in it, and a ceremony is performed by a priest.

"And they live in fear. One fact I learned was that it can take two years to break down even an adult, to re-educate her against the juju. So it's a very complicated psychological problem and it relies on the police being able to elicit trust so they can get to the truth."
There's also this from the Associated Press:
Damian Lewis has revealed he's developed an "American persona" for working in the US.

The flame-haired actor, who was nominated for a Golden Globe for his role in the Steven Spielberg and Tom Hanks-produced Band Of Brothers in 2001, had a two-year stint playing a detective in the US NBC series Life.

"It's got to a point where I go shopping at the weekends and stay as an American, and then I find myself talking to an English person and that's when I feel ridiculous," he admitted.

"But in America more often than not I naturally wake up in an American accent."

Damian, who has two children with actress wife Helen McCrory, wasn't too devastated when Life was cancelled after two series.

"I think my wife was secretly relieved… actually very publicly relieved. She'd had enough. We were both taken by surprise by the amount of time we were kept apart because of the workload," he said.

"I was having the life of Riley because I was working on something that I was committed to, but it was hard. Our son Gulliver was born there – so he'll be president one day – but I didn't see them enough."

The star is back with Stolen, a new one-off TV drama about human trafficking in the UK, which airs on BBC One on Sunday July 3.