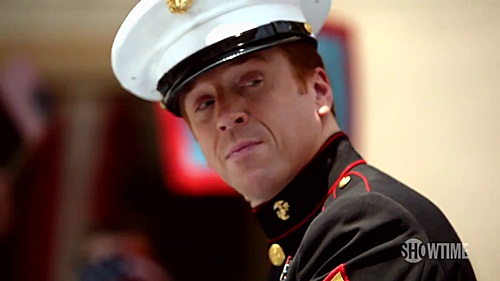 Concept: Danes is a bipolar CIA agent who is convinced that Lewis's newly rescued Iraq POW has terrorist intentions. It's from Howard Gordon of "24,'' but it's a lot more psychologically layered than that terrorism drama.

Am I hooked? Big time. Of all the drama pilots I watched, this was my favorite. It has a "Manchurian Candidate'' vibe. Danes and Lewis are complex in different ways, and they make tense cat-and-mouse partners. She's untethered, he's a master of self-control. And Baccarin is haunting as Lewis's confused wife.
Need to Know:It's the pick by most critics as the best new drama of the season. More importantly, I will be reviewing it this fall for TV Fanatic. It's a psychological thriller starring Claire Danes as a CIA agent. A marine POW Damian Lewis returns to the U.S. and Danes thinks he was turned by Al-Qaeda and is a threat to the country.

Quiet Pool Plan: Even if I wasn't getting paid to watch this, I would be excited. It sounds a lot like what Rubicon wanted to be, but failed so miserably at. It should be a good one.
As for what will stick around? Back Stage spoke with Melanie McFarland, the TV editor of the Internet Movie Database, for tips. As it turns out, her favorite new show isn't even a network program; it's Showtime's drama "Homeland." Starring Damian Lewis as a soldier missing in action who returns to America a hero and Claire Danes as a CIA agent who believes he may be working for al-Qaida, it comes from "24" executive producer Howard Gordon. "Because of Howard Gordon and the overtones of terrorism, I wasn't sure if this was just an attempt to return to his past glory," says McFarland. "But it's much more than that. I think it's amazing."
IMDb:
1. "Homeland"

Executive producer Howard Gordon is best known for his previous work, "24," but any comparisons one might be tempted to make between that and "Homeland" dissolve upon viewing the first hour. Equal parts conspiracy thriller and romantic tragedy, with themes familiar to anyone who has seen The Lives of Others layered over the plot, "Homeland" is emotionally engaging above all else.
Industry buzz: There's a reason Homeland sounds like 24: producers Alex Gansa, Howard Gordon, Chip Johannessen and Michael Klick all worked on the Kiefer Sutherland drama..

From the Critics' Mouths:

Amber: Big actors, a strong story and the support of Showtime all scream hit for this dramatic thriller. The pilot had some slow points but overall held tons of promise and I can't wait to see more.

Greg: I loved Lewis in Band of Brothers and again on Life, so he gets a free pass from me. So too does Danes, who was so fantastic in Temple Grandin. From what I've read, the pilot episode was fantastic, so I'm going to give it a high ranking sight unseen. My only question is if this would have worked better as a mini-series.

Melissa: This series is ripe for intense action, and appeals to the patriot in all of us. Clare Danes was a revelation to me with her titular turn in Temple Grandin, and I'm glad she's landed another lead role. Of course, Homeland's success will depend on its execution, but sight unseen, the entire cast is strong and the storyline possibilities are gripping.
Should You Watch It? After Temple Grandin, we'd follow Claire Danes anywhere. Indeed, Danes has another winner here playing CIA agent Carrie Mathison, who is both deeply paranoid and possibly right about a far-fetched, Manchurian Candidate-like plot to overthrow America. Damian Lewis is terrific as the returning soldier and Mandy Patinkin stars as well. If the pilot is any indication, you absolutely don't want to miss this extremely smart political thriller.
See Also:
New York Magazine – Shows We're Anticipating
TV Guide – Fall TV 2011: Must-See New Shows