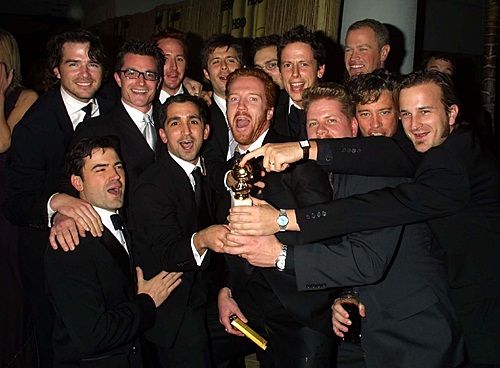 Currahee, a Cherokee word meaning "we stand alone together," is the name of a rugged, small mountain in Georgia where soldiers during World War II trudged their way uphill as they trained to become paratroopers. The word also fittingly served as the title for the opening episode of "Band of Brothers," the groundbreaking HBO miniseries that aired a decade ago Friday.

The Emmy-winning, 10-part series, which was produced by Steven Spielberg and Tom Hanks, continues to resonate with audiences who view the work as a much-needed historical tribute to the soldiers who helped defeat Nazism in Europe. The series was based on Stephen Ambrose's 1992 book that followed the real-life exploits of Easy Company, 506th Regiment, 101st Airborne from training through D-Day to the end of the war.

The reach of the series today extends to the United States Military Academy in West Point, N.Y., where many scenes featuring Richard Winters, the young American officer portrayed by British actor Damian Lewis, are used to teach future battlefield commanders about tactics (assaulting a fixed position at Brecourt Manor in Episode 2) and leadership (how to treat combat fatigue in Episode 3).

But even at the time it aired — in the days and weeks after the terrorists attacks of Sept. 11 — the series, while thanking the generation before, helped settle and inspire the one ahead.

"The men of Easy Company were resilient and stuck together. It was a powerful message to a nation trying to overcome something like 9/11," said Col. Eric Kail, who oversees military leadership curriculum at West Point. "Great strength is not from ourselves but from each other. That's a message soldiers have been trying to get out for a long time."

The $120-million production was shot entirely on location in England over eight months in 2000. The program was a powerful launching pad for a cadre of young and then unknown actors from the United Kingdom. In addition to Lewis who landed TV series work in NBC's "Life" and Showtime's upcoming "Homeland," "Band of Brothers" also boosted the careers of Michael Fassbender and James McAvoy, who starred together in this summer's "X-Men: First Class."

Other Brits included a baby-faced Tom Hardy, Batman's Herculean nemesis in next summer's "The Dark Knight Rises," who is nearly unrecognizable as Pfc. John Janovec and Simon Pegg as 1st Sgt. William Evans, Capt. Sobel's (David Schwimmer) assistant.

"It was truly an ensemble piece," said casting director Meg Liberman of their deliberate decision not to bring big names on board.

She acknowledged having mixed feelings originally about casting Lewis as Winters, whose character anchors the entire series. "I really wanted an American actor to play the part, but Damian came in and blew us away."
Read the full article at latimes.com.