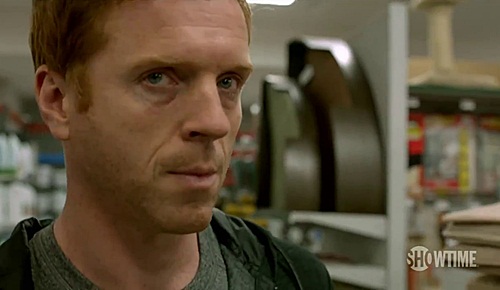 There are so many reviews coming in, here are a few excerpts that focus on the cast's performance:
Philadelphia Daily News: Lewis, mesmerizing in NBC's too-short "Life" as a different sort of ex-prisoner, projects an at times eerie calm as the man who, in a reversal of a paranoid fantasy, seems to be controlling a CIA operative though her TV set.

Pittsburgh Post-Gazette: Mr. Lewis brings his inscrutable, placid performance to Brody. Although audience sympathies over the first few episodes are squarely allied with Carrie's investigation, Mr. Lewis' performance offers enough room for viewers to question if Brody is really a terrorist.


The Hollywood Reporter: Both Lewis and Danes are excellent in Homeland. His coiled intensity — and mystery — contrast nicely with her manic need to be right.The cast also includes David Harewood as David Estes, head of the CIA's counterterrorism center and a rising star in the agency. His future basically rides on Brody being the hero everyone believes him to be, thus he's antagonistic to Carrie's suspicions. Morena Baccarin plays Jessica Brody, whose life is turned upside down when she finds out her husband is still alive after all these years.

Newsday
: This is one killer cast — the steely-curious Danes, who's wowed us since "My So-Called Life"; the cheery/chilling Lewis, from NBC's "Life" and HBO's "Band of Brothers"; CIA mentor Mandy Patinkin, in whom confrontational yet needy Danes stokes an inner rage that's electric; and dutiful Marine wife Morena Baccarin, from "V," trying to reconnect with a distant husband who exhibits numbness, niceness and inhuman disregard for her soul.

San Jose Mercury News: The handsomely crafted and briskly paced pilot does a good job of building intrigue. Only scant hints are dropped about the backgrounds of both characters. Carrie, for example, has some kind of mental disorder, for which she's popping meds. And the enigmatic Brody is clearly lying about a few things — but why? Both actors sell the premise in convincing style.


Huffington Post: Damian Lewis is mysterious and moody as Nick. He is stretched taut and each movement is a reaction to his past. Nick is the cipher of the show and Lewis keeps the secrets locked up inside Nick's brain.

Variety: Given Israel's proximity to forces plotting its demise, one can see how the premise — originated there by Gideon Raff, who shares a writing credit with Gordon and Gansa — would have been especially resonant in that small country. Yet the series effectively transfers those issues to the U.S., with Lewis (a Brit who previously wore a U.S. uniform in "Band of Brothers") especially good at turning his face into an implacable mask.