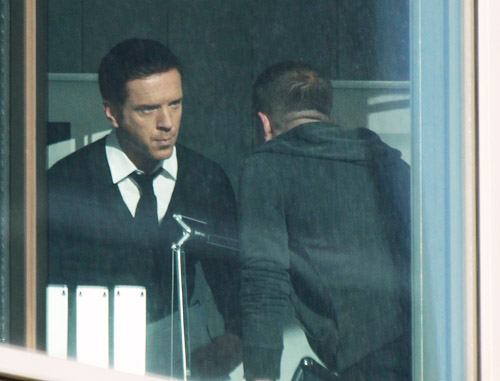 HeyUGuys has the first look at Damian Lewis on the set of The Sweeney!
Ok, so these aren't the most action packed set pics you'll see this year, but this is the first look at Damian Lewis on set for Nick Love​'s big screen adaptation of The Sweeney.

Lewis joins Ray Winstone​ and Ben Drew​ in the film, which is shooting in London right now, and we've seen some excellent shots from the production so far. These pictures follow on from yesterday's images which had Winstone in the same (police?) office. Today Ben Drew and Damian Lewis are on set together and we're keeping an eye on who else turns up.

Love has written the film with John Hodge, the man who worked with Danny Boyle on Shallow Grave and Trainspotting, they have adapted the film from the TV series starring John Thaw​ and Dennis Waterman which was huge in the '70s and served as inspiration for the BBC's Life on Mars series from a few years ago.

Details of the plot are sketchy at the moment, and to be honest it is only the looming microphone above Damian Lewis's head that makes us sure this is from the set and not us invading the man's privacy as he makes a phone call.