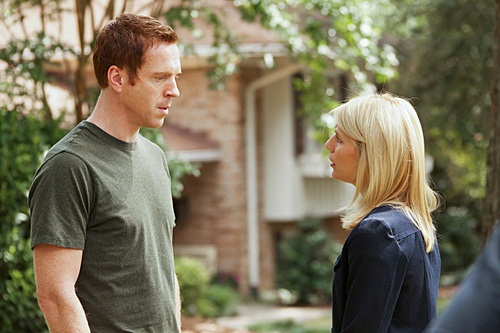 Actor Damian Lewis, the star of the new Showtime series, Homeland, stopped by the SiriusXM studios to talk with Ron Bennington about the new show, which is quickly becoming known as the most exciting show on television. Excerpts of that interview appear below.

Ron Bennington: The most intense tv show on today is definitely Homeland. Damian Lewis is in with us, and you've got a black eye, as if you've just been through some torture I don't know about.

Damian Lewis: Danesy. Clair Danes. She gets angry and she wacks me. No, it's my four year old. He threw Lightening McQueen at me yesterday morning just before I got on the plane to come here.

Ron Bennington: Well congratulations on the show. This tv show, to me is like one of the best movies of the year. Because it has the pacing and the feel like you're watching a thriller.

Damian Lewis: I'm delighted to hear you say that. We saw the pilot on a big screen at the premier in the Hamptons. I watched an hour of it, and I thought oh I've got to go through eleven more of those? That was an intense psychological movie, and you're right it is shot at that pace. And just from a slightly more technical point of view, the camera stays back a bit more than we're used to in tv, and it let's the whole thing breathe a bit. I'm delighted you picked up on that. That's one of the reasons I love the way this show is coming out.

Ron Bennington: And your character of course, is at the center of this. It's a guy that we root for, we fear, we sometimes dislike. You really don't have the normal kind of center to a television show with this.

Damian Lewis: The two central strands of the show are Claire's character, Carrie Matherson who is a CIA agent, and my character Nicholas Brody. My character represents a threat to homeland security. He might be about to do something devastating and violent and damaging. And yet he's weirdly likeable because he himself is damaged. And he's trying clearly to reintegrate with his family, reconnect with people in the world around him. And everyone can sympathize with a guy who…well, we don't know what it's like..but people can sympathize with a guy who has been in a hole for eight years. So there's a lot of sympathy for him. Conversely, her character who is brilliant, and maverick and volatile and a little erratic at times, is charged with really saving America, perhaps. She's the one person who seems to have a clue what's going on. But she's not immediately likeable.
Read the full interview at The Interrobang.