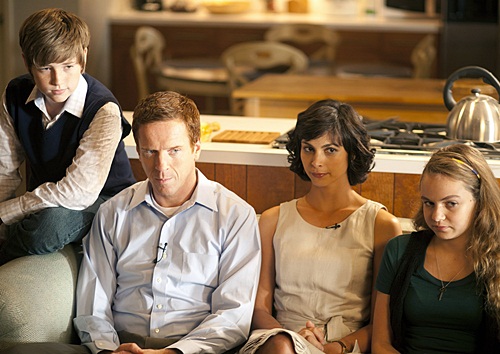 Damian Lewis has been up since 7am, but is on remarkably fine form – and has an admission to make.

"You need to know I'm in my pyjamas, clasping a coffee," he reveals, chuckling down the phone from America, where the working day's just starting.

The London native, best known for being in The Forsyte Saga, Band Of Brothers and Life, has made North Carolina his temporary home for the past five months to film new US TV series Homeland.

In doing so Lewis has made the ultimate sacrifice – being apart from his family – actress wife Helen McCrory and their two children, five-year-old daughter Manon and son Gulliver, four.

"North Carolina is a beautiful place and I like it here a lot. But I miss my family when they're not here with me, although they were with me all summer," he admits in his clipped Old Etonian accent.

"I also miss London because I love London – it is the greatest city in the world. I miss the culture, the vibrancy and bombing around on my bicycle from one place to the next."

An avid fan of Liverpool FC, he adds: "I miss Match Of The Day enormously, although in terms of actual football coverage, you can watch more football here than at home."

Homeland, the Golden Globe-winning psychological thriller, which also stars Claire Danes and fellow Brit David Harewood MBE, was created by Howard Gordon and Alex Gansa – the brains behind 24 – and is based on Gideon Raff's Israeli series Hatufim (Abducted).

"The parallel with 24 is inevitable, but this is far more of a psychological, political drama. It's something we don't see often – plus you need a black man and a redhead on a show!" he quips.

Lewis plays US Marine Sergeant Nicholas Brody, who has been held as a prisoner of war for eight years by Al Qaeda and presumed dead.

He is celebrated as a war hero on his return, but mentally unstable CIA agent Carrie Mathison (Danes) suspects he has been 'turned' into a sleeper agent and is now a threat to Homeland security.

"Ambiguity is a complex thing to play. You have to be lightning quick and nimble, there's a mental and imaginative agility in the performance which is really fun," says Lewis, 41.

"Inserting a bipolar disorder into the heart of a paranoid thriller is a brave move, as it conveniently allows us to judge Carrie. Is this man a danger to the United States or is she over-reacting? It's intense. You're going to love it!"
Read the full interview at the Independent.ie website.