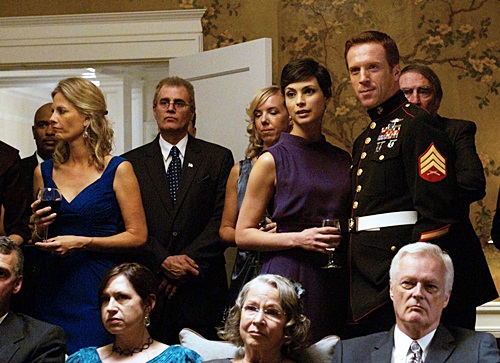 Twentieth Century Fox Home Entertainment has announced (FINALLY) the release of the one of the best new dramas to hit our televisions. That show stars Claire Danes, Damian Lewis (if you haven't seen his short-lived TV series Life – DO IT) and Inigo Montoya himself, Mandy Patinkin.

The synopsis for HOMELAND is this: "HOMELAND is a psychological thriller that tells the story of Carrie Anderson (Claire Danes), a CIA officer battling her own demons, who becomes convinced that the intelligence that led to the rescue of Scott Brody (Damian Lewis) a U.S. soldier who had been missing and presumed deal for nine years, was a setup and may be connected to an Al Qaeda plot to be carried out on American soil. Mandy Patinkin will portray Saul, a veteran CIA Division Chief who is Carrie's (Danes) boss and mentor. "Homeland" is written by Howard Gordon, Alex Gansa and Gideon Raff, and is based on Raff's Israeli television series "Prisoners of War.""

HOMELAND – THE COMPLETE FIRST SEASON will arrive on both DVD and Blu-ray on August 28. If you haven't checked out the first season of the show, you should definitely do so and be caught up in time for the premiere of the second season on September 30. Thus far no cover art or special features have been unveiled for the release, but those details should follow shortly.
Source: JoBlo.com
Season 1 of Homeland is also available for pre-order at Amazon.co.uk and is set to be released in the UK on October 1st.
Amazon.com – DVD
Amazon.com – Blu-Ray
Amazon.co.uk – DVD
Amazon.co.uk – Blu-Ray