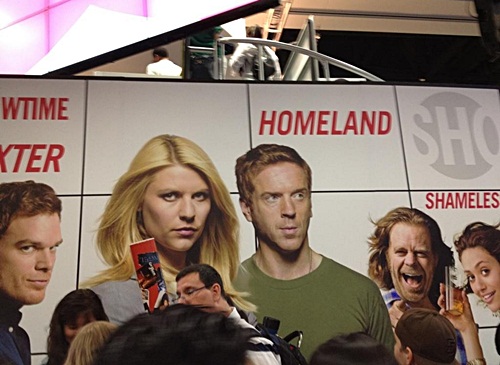 [SPOILER ALERT! This story reveals key plot details from Homeland's second season. Stop reading now if you don't want to know what's going to happen.]

Homeland is — almost — back!

Comic-Con fans were treated to a special first look at the spoilery Season 2 trailer, which finds Brody (Damian Lewis) in office and Carrie (Claire Danes)… as a teacher? However, that won't last long since Carrie quickly gets pulled back into the CIA.

Check out five things we learned from the Season 2 teaser promo:

1. Season 2 scenery: The trailer opens on an American embassy in Beirut surrounded by protestors. It sounds like there may have been a Black Hawk Down situation in a country in which the U.S. isn't exactly welcome. This will be the setting for at least the first two episodes, which were filmed in Israel.

2. The CIA needs Carrie: Since her electroshock therapy, Carrie is now a teacher. But that won't last for much longer. Apparently, Saul (Mandy Patinkin) has been calling her non-step for help, and even Estes (David Harewood) comes to her home to recruit her for a mission. They need Carrie to go to Beirut to meet with an asset to get some inside information. She's supposed to be gone for three days, but she lands in the middle of a special ops mission that turns deadly. She nearly gets shot herself!

3. Carrie is still messed up: Carrie clearly doesn't remember that she recalled an important name that Brody once shouted out in his sleep just prior to her electroshock therapy. She's seen telling someone that being wrong about Brody really messed her up because she's never been so sure about something, yet so wrong.

4. Is Brody still a terrorist? After failing to detonate the bomb strapped to his chest, now months later, he's seen vehemently telling a new character played by Lost alum Zuleikha Robinson that he is not a terrorist, he's a congressman! Still, based on quick cuts of his shady dealings, he's still wrapped around Abu Nazir's little finger.

5. Will Carrie be pregnant? While there's clearly no baby bump to be found in the trailer, executive producer Howard Gordon reassured fans that just because Danes is pregnant in real life does not mean her character is pregnant. "No… not yet necessarily," he said.

Homeland returns Sunday, Sept. 30 on Showtime.
Source: TVGuide.com
More Comic-Con & Season 2 News:
THR – Comic-Con 2012: 6 Things to Look Forward to From 'Homeland' Season 2
Vulture.com – Homeland Trailer Debuts at Comic-Con: 14 Things to Know about Season 2
TVLine – Homeland @ Comic-Con: Carrie Spies a Comeback, While Brody Is Still in Denial Mode
Zap2it.com – 'Homeland' at Comic-Con: Get your Season 2 spoilers right here
TVLine – Matt's Inside Line: Scoop on Mentalist, Sons of Anarchy, Homeland