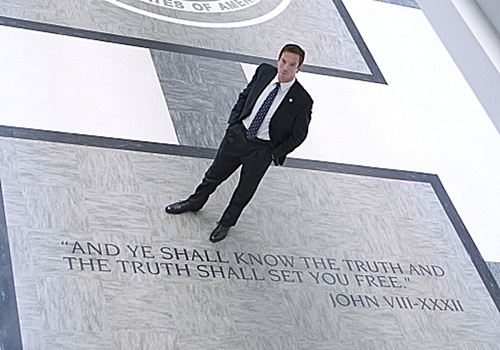 Here's a roundup of articles covering Showtime's Homeland TCA press panel on Monday.
Former CIA operative Carrie Mathison "gets her mojo back, but it takes some time," Homeland star Claire Danes told the Television Critics Association at the fall previews on Monday.

At the end of the first season of Showtime's Emmy-nominated drama, Carrie voluntarily underwent electroconvulsive therapy, thinking that her bipolar disorder caused her to mistakenly suspect former POW Nicholas Brody (Damian Lewis) harbored sympathy for al-Qaeda.

Check out other insights from the Homeland TCA preview:

1. Carrie rejected returns: In order to get Carrie back into the political game after her therapy, executive producers Alex Gansa and Howard Gordon rejected a couple different ideas. In one scheme, Carrie and Virgil acted as private investigators, and in another, Virgil and Carrie were stuck in a van together driving around Washington, D.C. "We knew we had to get her back in the saddle," said Gordon. "[Our solution] is by no means a permanent solution. There's more to come in that story."

2. Mojo re-established: As Danes described, Carrie will eventually regain her equilibrium. "She really has taken responsibility for her condition [that] has altered her in a pretty fundamental way," said Danes. "At the beginning of the second season, she's been humbled. She's suffering from a real crisis of conscience… I think she has some suspicions that her [mental] condition was responsible for her genius." By the end of the first episode, however, a fleeting smile on her face tips viewers off that the old Carrie is back — just for a little. "The whole episode was structured around someone who was very reluctant and reticent to get back involved… yet is pulled to do the work," said Gansa. "And when she finds herself there, it invigorates her and she gets high on the action. Claire has a wicked smile on her."

3. Brody's still damaged: The former U.S. Marine is now running for Congress, but that doesn't mean he has his act completely together. "Brody made a mission statement at the end of the first season, saying he wanted a non-violent political subversion of American policy," Lewis explained. "He would like to think he's in control of his own destiny… He's more knowingly juggling balls this season, but essentially he's everybody's bitch. … He's a suppurating sore that needs to be lanced at some point."

4. Romance not revisited: Last season, Carrie and Brody went to a remote cabin where they had a brief, idyllic affair that almost immediately self-destructed. "It came to be regarded as a pivotal sequence last season," confirmed Lewis. "I think Alex and Howard have tried to create a similar pivotal moment in Season 2 of a very different nature where Carrie very much has the upper hand. It's less romantically inclined than professionally inclined. It's just as complex." Dane added, "I think that still hovers over them. They were never able to see that through, and partially for that reason it remains as compelling as ever. It's tricky. … It was the one episode where Carrie got to experience real joy and freedom. Those moments are few and far between."

5. Saul still solid: "Saul in a lot of ways is Carrie's conscience. There's no one she trusts more or respects more," said Danes. "She can't get away with much with him, and therefore those scenes can be quite confronting with him and explosive."

6. Difficulties standing by your man: Brody tried to rebuild his marriage with his estranged wife Jessica, who had previously believed he had been killed. "It's really painful going to work because this woman's life is in shambles all the time and she's trying to do her best to try and do it together," said Morena Baccarin. "I really love the strength that Jessica has found being in the D.C. limelight with Brody. I think she's found this sense of purpose. But their relationship is incredibly complicated [after] finding out that Brody's been lying."

7. No baby worries: Danes is pregnant, but neither she nor the producers believe that the baby will present a problem for production before or after the birth. "It's proven to be a non-issue, but all is well, and Carrie remains to be fervently non-pregnant," said Danes. "They're portable when they're little," she jokingly added. "I carry my dog around in a suitcase. That's been working out for my schnoodle."

Homeland returns for its second season on Sunday, Sept. 30 at 10/9c.
Source: TV Guide