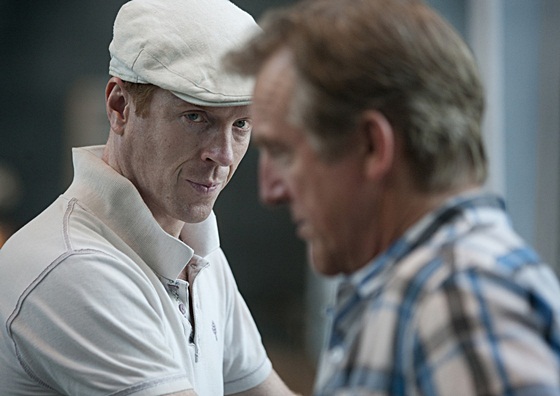 Damian Lewis shows up for our meeting at a downtown New York City hotel looking the very opposite of his conservative, buttoned-up character on Showtime's Homeland: U.S. Marine-turned-terrorist mole Nicholas Brody. The actor is Rat Pack-jaunty in a straw porkpie hat and vintage-y polo shirt in avocado green, and a lot more gregarious than the repressed guys he plays to perfection (see also the 2002 version of The Forsyte Saga and HBO's Band of Brothers). You may have heard that he just picked up an Emmy for his performance on Homeland, as did the show (which returns on Sunday at 10 p.m.), as did his co-star Claire Danes, who plays Carrie Mathison, Brody's CIA nemesis and one-time fuck buddy. The London-based father of two (with actress Helen McCrory—Narcissa Malfoy in a few of the Harry Potter movies), is temporarily living in North Carolina, where Homeland is shot, but he's here for a fashion shoot for GQ (look for the results in our November issue). He wants a beer, but we're sitting in an empty dining room. Eventually a staffer walks by and we order, but thirty minutes go by and no beer. Lewis decides he doesn't care, then reconsiders: "No," he says bounding out of the room in search of a waiter, "I do want a beer! I was just being British and polite." Apparently playing Americans is wearing off on him. (Note: If you haven't watched the first season of the show, there are spoilers ahead.)

GQ: Now that I've met you, I can see you're a lot more like the looser, funnier Charlie Crews—your character on NBC's Life—than either of the intense dudes you play on Band of Brothers or Homeland. It's really a shame NBC cancelled that show after two seasons—it was very good.
Damian Lewis: It's surprising how many people stop me to say that very thing. But I guess this is the new life that TV and film has thanks to On Demand and Hulu and box sets. I was having this conversation with a friend about how there's rarely a correlation between how many people have seen a show versus the hype that's around it. Judging by the reaction to Homeland, you'd think everybody had seen it. But actually, only 3 or 4 million watch it each week, which is less than half the number of people who watched Life. But even with its AFI award, Life was deemed only a mid-ranking success because it was on a network rather than cable. So it's rewarding three years later when people are still coming out of the woodwork to talk about how much they liked Life. I'm not disappointed personally because I'd still be doing it and I wouldn't be doing Homeland. But I'm disappointed for Rand [Ravich], who created the show. He deserved more from it. I thought it was very cleverly written.

GQ: Not to mention Life introduced your now famous co-star, Christina Hendricks.
Damian Lewis: She was simultaneously doing the first season of Mad Men. But people hadn't seen her in that yet.

GQ: And now look at her!
Damian Lewis: It's funny how that happens on TV: The headliner breaks in season one, and then the networks start picking off other members of the cast: Who do we push forward now? John Slattery is a friend of mine. We lived next door to each other when I was shooting Life and he was doing Mad Men.

GQ: Did you surf with him?
Damian Lewis: No, because I'm a horrible surfer. But I used to play golf with him, and then I couldn't get him to play anymore because he became totally obsessed with surfing. I don't like getting up at 5 a.m. and jumping in the water. I'm a slow starter.

GQ: But you play soccer really well, right?
Damian Lewis: I love playing sport. I love going for a swim. Growing up in England, anywhere with a pool seems like the height of glamour to me. I have a pool in the apartment complex in Charlotte [N.C.] where we shoot Homeland, and it always feels very James Bond to have orange juice and coffee by the pool. For the first season of the show, I'd get up in the morning, jump in the pool, and lie in the sun, eating my breakfast. Then, of course, I'd realize that I had to smother myself in cream because I'm so pale, and it became a real ordeal. The novelty is wearing off a bit.
Read the full interview at GQ.com.