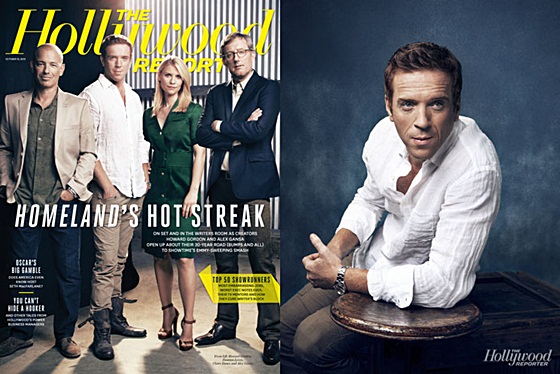 Homeland is the cover story for the October 12the issue of The Hollywood reporter. Check out the portraits and behind the scenes pictures as well as HD video of the cover shoot. Warning: Spoilers for Season 2!
Gallery Links:
Photoshoots > Session 058
Homeland > Season 2 > On Set
On a balmy day in mid-July, their star, Lewis, sits with his hands shackled to a wooden table as deafening music blasts through his windowless cell. An interrogator throws open the door: "Who is Issa?" he barks at Brody, referring to Abu Nazir's son, whom Brody had come to love as his own child before a drone strike ordered by the U.S. vice president had him killed in Iraq in season one. As the questions grow more accusatory, Brody stops providing answers. Incensed, the interrogator pulls out a switchblade and rams it into Brody's left hand. The ear-piercing shriek that follows reverberates through the Charlotte, N.C., soundstage, eliciting a pump of the fist from director Lesli Linka Glatter and confident smiles from the 10 or so who surround her at the bank of video monitors.

Eager for more angles of a pained Brody, who is now plotting the next Al Qaida attack on American soil from his perch as a U.S. congressman, Glatter sends a makeup artist scurrying back in to reapply a coat of deep red, alcohol-based syrup on Lewis' hand before another take is called. The actor, 41, will shoot this scene — with and without a prosthetic hand — 10 or so more times before the lunch bell rings at 4 p.m. At that time, he strips down to an undershirt and slacks and sits down with his newest castmate, fellow Brit Rupert Friend, without once dropping his American accent. ("I speak in an American accent from the moment I wake up until the moment they say wrap," says Lewis of an immersion technique that dates to his first American role on HBO's Band of Brothers.) Soon, he'll be back on his feet, heading to the dessert table to fill a bowl with chocolate ice cream and a coating of caramel sauce with the type of giddy excitement of a child. "They do this whole good-cop/bad-cop thing with us," he quips, flashing a warm smile that he rarely gets to display onscreen: "First, they stab you with a knife, and then they give you ice cream."
Read the full article here The Hollywood Reporter.