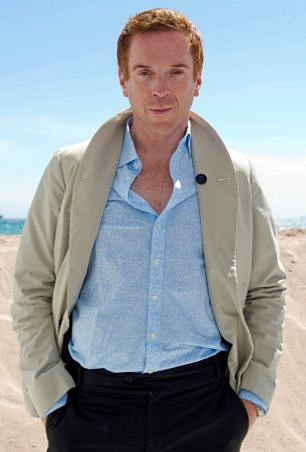 Damian Lewis will use a break in the middle of shooting the third series of hit TV drama Homeland to preach the gospel.

The award-winning actor has signed to play a puritanical pastor who believes he has become God's true messenger in a crumbling community in the westernmost islands of Scotland.

He will star in the film The Silent Storm, opposite Andrea Riseborough as a sensual, free spirit whom the priest rescues when she's washed up on the beach. 'They have a relationship, but he so adheres to the disciplines of the Christian faith that she suffers and he crushes any life out of her,' Lewis explained about the film, to be directed by Corinna McFarlane from her own screenplay.

Added to the problems at the vicarage, the local mine has closed and the pastor's flock are moving to the mainland — plus there's a tragedy that affects the couple's future.

A delinquent teenage lad is sent from Glasgow to live with them and, well, the tale heats up. McFarlane's story is set in a Fifties world. 'But before it becomes apparent that you're in the 20th century, you could very easily be in the early 19th,' Lewis said.

'It's very Ibsen-esque, but I don't think the palate of the film will be granite grey. It's got something that's a bit more uplifting than that,' Lewis stressed. McFarlane and Nicky Bentham, the film's producer, has been championed by James Bond film executive Barbara Broccoli. She was shown McFarlane's script and was determined to back the picture.

'It's really important to have original, fresh female voices out there, and Corinna's incredibly talented. She has a vision and has something to say, and I want to support that,' Broccoli, visiting Cannes, told me. Filming will start on June 23.

Lewis said his Homeland schedule has a natural gap, with time enough to shoot The Silent Storm. He told me his character in the hit show, U.S. veteran-turned-terrorist Nicholas Brody, is 'on the run and he's public enemy Number 1 in the world and we will find him somewhere surprising'.

Lewis continued: 'We will find Brody in a Brody-esque state, which usually means an unhealthy one. He's a survivor, a cockroach. You can't kill Brody. What's emerged in him over the first two seasons is he's a victim of war, he's been poisoned and he leaks his poison wherever he goes. Damaged people are dangerous to be around because he damages others.'

In the middle of his crazy filming schedule, audiences will see Lewis as Lord Capulet in a new film of Romeo And Juliet adapted by Downton Abbey writer Julian Fellowes.
Source: Daily Mail