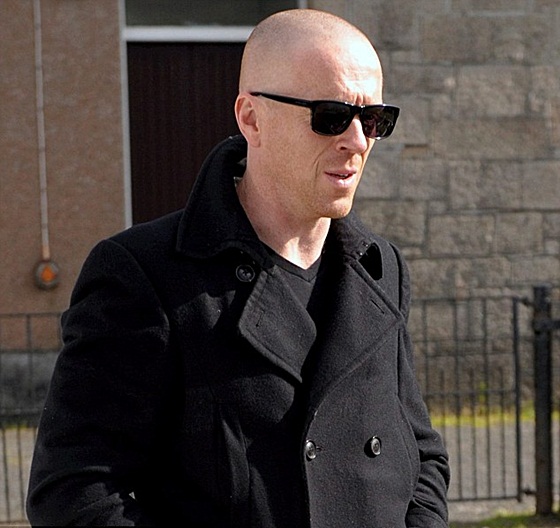 He's famous for his fiery red hair.

But Damian Lewis has undergone a dramatic makeover for his role upcoming drama The Silent Storm – by completely shaving his head.

The 42-year-old actor showed off his new look as he got to work filming the love story on the Isle Of Mull in Scotland on Monday.

Homeland star Damian was virtually unrecognisable as he prepared to begin shooting the film, which also stars Andrea Riseborough.

Sporting a pair of sunglasses and black double breasted-coat over a black V-neck T-shirt, Damian's new appearance gave him a mysterious air.

The actor was seen driving his smart navy Jaguar in the village of Pennyghael about 3 miles from the secluded Carsaig Estate.

His car was later seen parked up on some grass just outside the village, as Damian is believed to have left the vehicle there because the road leading up to the set is so narrow and steep.

Shunning the usual modes of transport favoured by celebrities, Damian is believed to have arrived by ferry after travelling in from Oban.

The Secret Storm tells the story of an enigmatic outsider (Riseborough) living on a remote Scottish island who is caught between her commanding husband (Lewis) and a 17 year-old delinquent (newcomer Ross Anderson).
Source: Daily Mail.
See Also:
Screen Daily – John Sessions, Kate Dickie and Ross Anderson join The Silent Storm