Interview: Damian Lewis examines HOMELAND Season 3
The actor talks about how he views Brody – and what HOMELAND has in common with Shakespeare
By ABBIE BERNSTEIN / Contributing Writer
Posted: November 10th, 2013 / 10:34 AM
Damian Lewis in HOMELAND – Season 3 | ©2013 Showtime/Kent Smith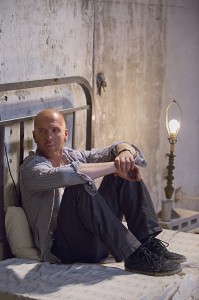 British actor Damian Lewis won an Emmy for his first season as prisoner-of-war-turned-terrorist/Congressional candidate Nicholas Brody in Showtime's CIA thriller HOMELAND, which airs Sundays at 9 PM. Lewis was nominated again for his second year on HOMELAND, when Congressman Brody is proved to be a terrorist by CIA agent Carrie Mathison (Claire Danes, who won Emmys for both seasons), then is turned into a double agent by the CIA, then resumes his affair with the very conflicted Carrie, then is apparently framed for blowing up the CIA and ends the second season on the run.

Now it's Season 3. Carrie is in a lot of trouble for trying to prove Brody's innocence, but this is nothing compared to Brody's problems. Furthermore, Brody's family is still trying to cope with the fallout – his teenaged daughter Dana (Morgan Saylor) is recuperating from a suicide attempt and then goes on the run with a shady boyfriend, while Brody's wife Jessica (Morena Baccarin) is beside herself with anguish.
Lewis seems very happy to still be part of the series, created by Howard Gordon and Alex Gansa, based on the Israeli series HATUFIM, created by Gideon Raff. After a Q&A panel with the rest of the HOMELAND team for the Television Critics Association, Lewis obligingly sticks around on stage for some follow-up discussion.
ASSIGNMENT X: Were you looking forward to a third season of this, or did you have to think it over because you expected to be dead somewhere in second season?
DAMIAN LEWIS: No. I mean, I'm obligated to be here in the third season. I think there's always been chat about how long Brody would survive, and I think because of the success of the show and the success of that central relationship, they wanted to keep him. But we'll see. Brody's a fascinating character. He turns out to be one of the most fascinating characters in the story, without actually being germane to the central plot. The central plot is really CIA, Homeland Security, and how they'll deal with any ongoing threats to that security.
AX: You were in some movies between seasons …
LEWIS: I made ROMEO AND JULIET; I also made something called THE SILENT STORM, which Barbara Broccoli produced, Andrea Riseborough and I were in. I was playing a Presbyterian minister from the 1950s in Scotland, which is why I had my Pierce Brosnan wig. He's quite strict and fairly brutal.
AX: You play Lord Capulet in the new ROMEO AND JULIET, directed by Carlo Carlei. Is it very different from the Franco Zeffirelli and Baz Luhrmann film versions?
LEWIS: Certainly it's different. For one, it's got Julian Fellowes' adaptation of the script, so where the original is dense and difficult to understand, then Julian has finessed some "Fellowsian Shakespeare," just to make it a little more intelligible, and you've got the gorgeous Hailee Steinfeld [as Juliet]. She's still very young, she's fifteen. They've brought all the ages down, so we're all slightly less doddery than in the Zeffirelli, and it's got an array of fantastic actors. I think importantly – it's got Paul Giamatti [as Friar Laurence], Stellan Skarsgard [as the Prince], Natascha McElhone [as Lady Capulet], Lesley Manville [as the Nurse] – they really went to a group of young, very current TV stars – Ed Westwick [as Tybalt], Christian Cooke [as Mercutio], Douglas Booth [as Romeo]. [Booth] looks like an extraordinary Greek sculpture, and Hailee is very pretty and very talented. Hopefully people will like it. It's certainly done in the romantic tradition. Abel Korzeniowski, who did the score for A SINGLE MAN, did the score for this. It's different from the one that Claire [Danes as Juliet] was in, very much so. It's not a reconstruction, it's not updated, it's set traditionally in its time. It's the great love story, forbidden love between children. That plays out a little bit in Dana's story with [HOMELAND]. She's troubled, she's falling in love with inappropriate people and it's doomed. That's the thing about ROMEO AND JULIET – it's doomed. You know they shouldn't be together.
AX: In HOMELAND, Brody sometimes surprises the audience greatly. Do you ask the writers, "Where am I going, what am I actually doing?" or do you like playing it so that it can be read all different ways at any particular moment?
LEWIS: I do want [to be] increasingly clear about Brody, which I've maintained from the get-go. He's part of a political message in this show, which is, he's a victim of war, extrapolated to the nth degree. If you send young men out to war, they can come back damaged and they can damage people around them. That's what has happened to Brody. Brody survives – somehow he survives – but he's sort of toxic. He affects people around him, he breaks Carrie's heart, he breaks his own wife's heart, he breaks his daughter's heart, he is kept alive at great cost to the CIA, to the intelligence agency. He's alive at great cost to the political establishment here in the States. And he's just troubled. But somehow, like a cockroach, he survives. If an atomic bomb was dropped on the Brody household, you'd probably see him just scuttling out in the rubble. Somehow he's alive, but he infects everyone around him. When we see Brody in Season 3, you will see him at rock bottom. You will see him in an unhealthy position in one of the circles of Hell. And then there will be some sort of recovery that he will affect by himself.
Read the rest of the article at AssignmentX