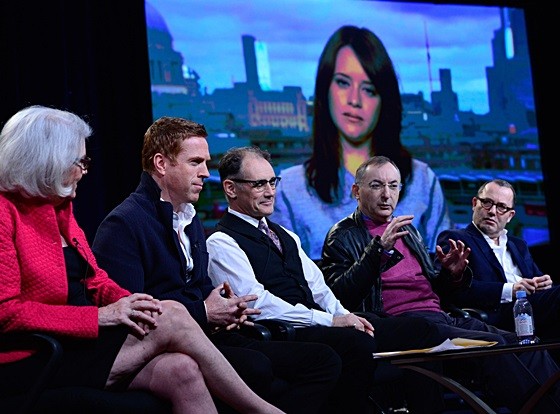 "If ever there was a masterpiece on 'Masterpiece,' this is it," Rebecca Eaton, exec producer of PBS' "Masterpiece," said at Monday's Television Critics Assn. panel for "Wolf Hall." The six-part miniseries, based on Hilary Mantel's book and its sequel "Bring Up the Bodies," stars "Homeland's" Damian Lewis, Mark Rylance and Claire Foy.
Lewis, whose character, Nicholas Brody, was killed off in Showtime's hit, for which he won an Emmy, said King Henry VIII is a part he's excited to tackle.
"My vanity will always relish a challenge," Lewis said. "In fact, that probably encourages me."
Assuring the room of reporters he's not afraid to take on such a weighty role, Lewis said, "There's a real opportunity to look differently at a period of history that is loved and well known." He's also excited to bring new light to the "syphilitic, philandering Elvis people think [King Henry VIII] is."
"Henry, as a brand, is right up there with Coca Cola," Lewis said. "In terms of brand recognition, you have to go look at other things, and I think we have."
"Wolf Hall," exec produced by Colin Callender and directed by Peter Kosminsky, debuts on PBS April 5. The drama runs through May 10.
Source: Variety
More from the PBS TCA Winter Press Tour:
Deadline – Damian Lewis Says Henry VIII As Big A Brand As Coca Cola