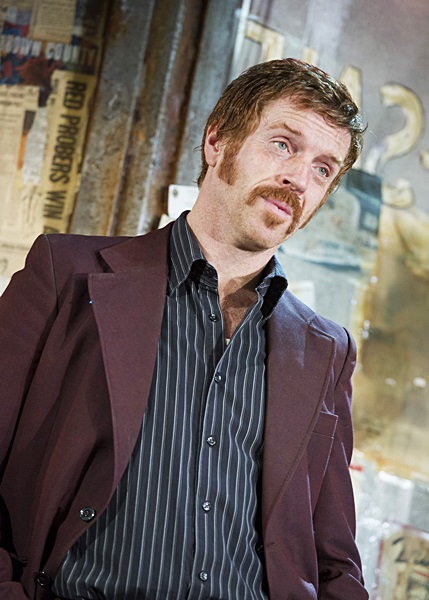 He's best known for playing Sergeant Nicholas Brody in hit TV series Homeland.

But Damian Lewis is making a welcome return to his theatre origins with a lead role in Daniel Evans' West End revival of American Buffalo.

The 44-year-old actor stars opposite John Goodman in the limited run of the play, which opened at Wyndham's Theatre in London on 16 April.

Damian plays Walter 'Teach' Cole in the dark comedy about three small-time crooks plotting to steal a valuable coin collection.

The star has been given a bad '70s makeover for the production, sporting thick sideburns, a bushy mustache and a maroon suit.
While he previously confessed playing the junk-shop worker was a 'challenge', he certainly looks the part in first-look images from the show.

The 1975 play by American playwright David Mamet was nominated for a host of awards including two Tonys and received rave reviews from critics at the time.

It was turned into a 1996 film starring Dustin Hoffman and had a short-lived Broadway revival in 2008 starring Cedric the Entertainer and Haley Joel Osment, which closed after just eight performances.

The new London production, which will run until 26 June and also features Far From The Madding Crowd's Tom Sturridge, is being directed by Damian's friend Daniel Evans, with whom he trained at Guildhall drama school.

Damian – who is married to fellow thespian Helen McCrory – has been plotting his return to the stage for quite some time, telling The Guardian, 'I've tried about three or four times in the last couple of years and things have fallen apart.

'With theatre, you have to plan almost a year in advance. But we got lucky – a theatre was available.'

This is far from the popular star's first foray into theatre since he was a member of the Royal Shakespeare Company for five years in the 1990s.

He was last seen onstage at opposite Keira Knightley in Molière's The Misanthrope in 2009.
Source: Daily Mail