Doubles Match
by Gingersnap | damian-lewis.com | July 13, 2018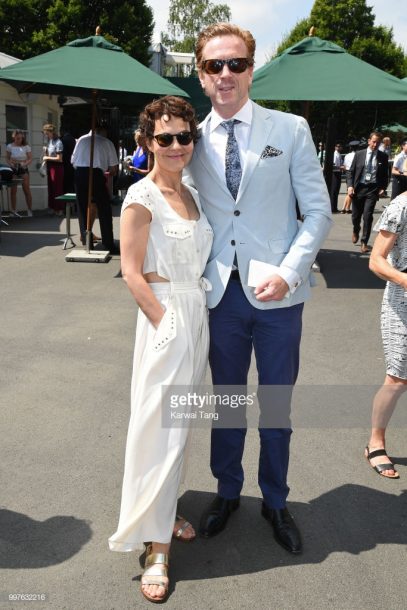 Arriving in style at the prestigious sporting event, Damian and Helen attended day eleven of the Wimbledon Tennis Championships at the All England Lawn Tennis and Croquet Club on July 13, 2018 in London, England for the men's singles semi-finals.
They watched the Centre Court from the Royal box with a host of other celebrities such as, Aidan Turner, Jenna Coleman, Michael McIntyre and Tim Peake.
Damian was seen having a chat with Bear Grylls before settling into his seat. Behind Damian and Helen sat Anna Wintour and we even caught a glimpse of Barry Gibb.
Friday's match line-up:
No. 8 Kevin Anderson (South Africa) vs. No. 9 John Isner (U.S.A) at 8 a.m. ET
No. 2 Rafael Nadal vs. No. 12 Novak Djokovic  at 10 a.m. ET, approximately
For more information, please visit Wimbledon's official website
To view more photos, please visit our Gallery