The Adventurous Port Elioter!
by Gingersnap | damian-lewis.com | July 27, 2018
The Port Eliot Festival is an annual celebration of all things literary. And who should be in attendance? That's right, Damian was spotted at the festival, which runs from July 26-29, 2018 in St. Germans, Cornwall.
According to their website, the festival is unlike any other, where the guests are welcomed for one magical weekend exploring the 6,000 acre Estate as their very own playground.
Whether you're swimming in the estuary, picnicking under a 300 year old tree, rocking out at the Park Stage, canoeing on the river Tiddy, catching an intimate gig in the church, watching a cooking demo in the Big Kitchen (with Teri Hatcher), attending art workshops or dancing until the wee hours in the Boogie Round, people celebrate words, music, imagination, ideas, nature, food, fashion, flowers, laughter, exploration, fun, and all that is good in the world!
If you don't fancy pitching your own tent, there are boutique camping options – from yurts to airstreams to full-size tipis. And when the sun goes down, the wonderful Dartmoor skies will take you on a stellar journey through the galaxy of their nightly stargazing sessions.
"It's like falling from the sky into a magic garden where you will be constantly surprised and delighted; where you can drink, dance, discuss, dress up, camp, explore, get lost, fall asleep under the stars to the sound of Andrew Weatherall, and wake up to the ringing of church bells."
The Boogie Round, a hidden stage amongst the shrubbery, was a haze of fog and strobe. The usual star-studded crowd and friends danced Saturday night away in said tent with Damian. It seems he fully enjoyed the music entertainment as he tweeted this out:
New favourite band @teleman. They played an incredible set in the midnight hour at Port Eliot that had the tent bouncing…..

— Damian Lewis (@lewis_damian) July 30, 2018
In addition, it seems Damian and his family had a chance to talk all things vikings when they visited the Viking Encampment:
Was lovely to have the chance to talk all things #vikings with @lewis_damian and his family at the #PortElliotFestival when he visited our Viking Encampment. A really nice family with an abundance of questions & their own knowledge – makes our hobby even more fun!

— Kelley 🙪 (@holywitchgirl) July 30, 2018
Then it was time for some excellent ax throwing lessons by Canoe Cornwall:
And how priceless is it that "Axe" signed the ax with, "Jay, best wishes, from The Axe":
And pictured below, dead center, man in orange shirt and short-haired brunette female in hot pink. It appears Damian and Helen were spotted in the Walled Garden:
The Plymouth Herald states if there's a place to gather one of the most diverse combinations of entertainment, luxury and weird and wonderful, it's Port Eliot.  Formerly the Elephant Fayre, the festival was known for its riotous nature, but Port Eliot as it is now couldn't be further from that earlier image. It's a place for writers, fashionistas, those who know what's what about poetry, decent music, and it serves a platform for outlandish acts that captivate.  It's a place for families to unwind, for kids to run and carve spoons and make shelters from branches and wet leaves – learning survival skills in the forest. It's a haven for the sophisticate, the ones who prefer to spend their afternoons sipping prosecco in an outdoor hot tub overlooking the River Tiddy – but it's also a place to let your hair down. Here are some of the festival photos: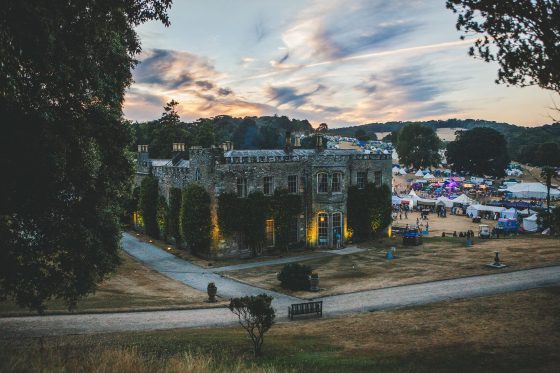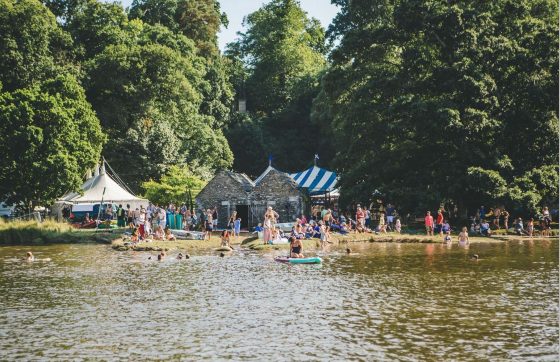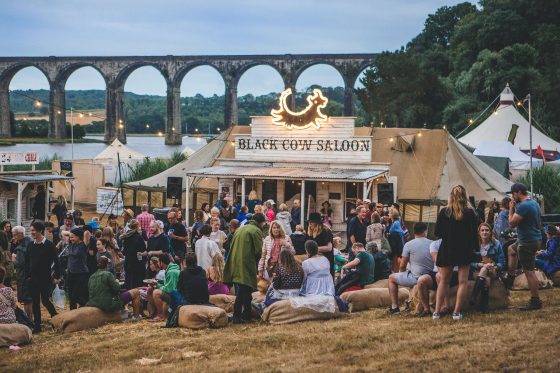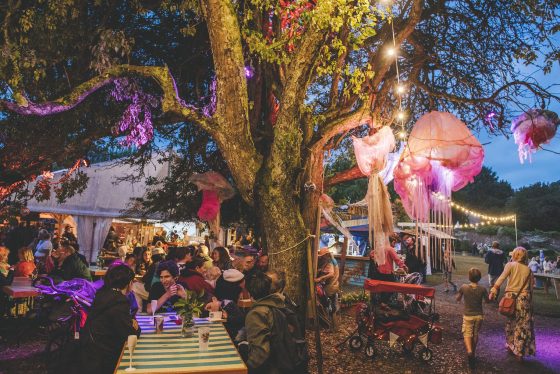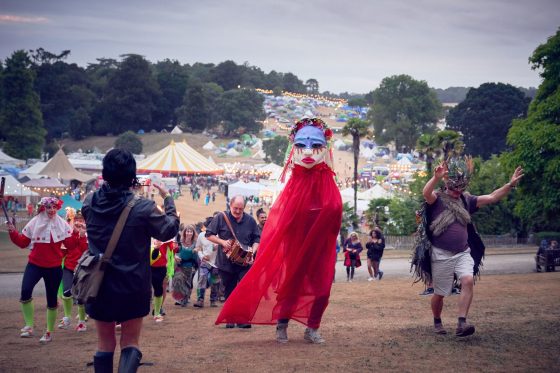 For more information, visit Port Eliot Festival's Instagram or Twitter page.