Battles, Backlash, CIA Meetings
by Michael O'Connell | Hollywood Reporter | January 16, 2019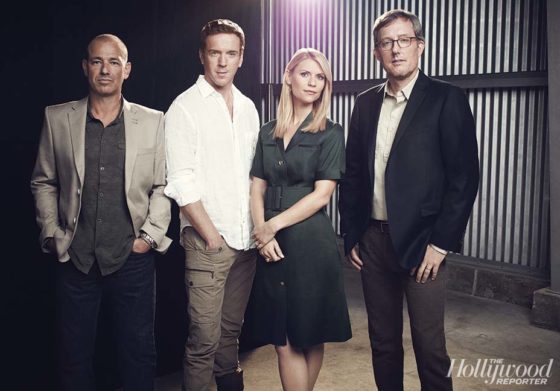 Claire Danes, Mandy Patinkin, Damian Lewis and the creators of the era-defining Showtime drama — now entering its eighth and final season — reveal in The Hollywood Reporter's oral history never-told tales of a show that smashed records, captivated presidents and predicted everything from terrorist attacks to Russian election hacks.
"What keeps you up at night?" That's the question Homeland showrunner Alex Gansa annually posed to Washington insiders before putting fingers to keyboard on a season of his Emmy-winning Showtime drama.
What began as a slick spy thriller driven by a potent sexual chemistry, courtesy of leads Claire Danes and Damian Lewis, evolved into an exposé on the greatest dangers to an America that finally had some distance from 9/11. Threats from ISIS, the surveillance state and Russian interference punctuated clandestine meetings with the intelligence community — part of a yearly writers and cast symposium in D.C. affectionately dubbed "Spy Camp."
The series, loosely developed from an Israeli format by Gansa and longtime collaborator Howard Gordon (24), became an instant and bona fide success when it premiered in 2011 to 2.8 million viewers and unanimous critical acclaim. Boasting a murderers' row of writers, each a showrunner at one time, the drama catapulted Showtime and studio Fox 21 to an echelon of prestige TV they previously couldn't reach. It swept its first Emmys (with six awards total) and those first seasons had both the Obamas and Clintons soliciting screeners.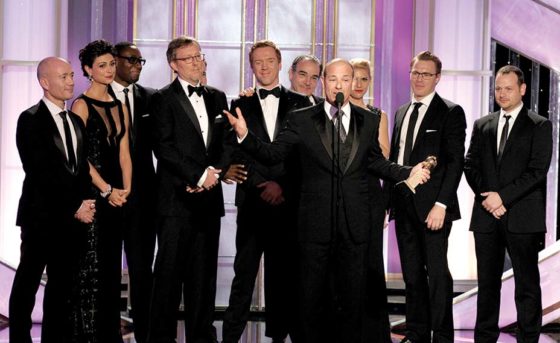 PART I: Former writing partners Alex Gansa and Howard Gordon, reunited on the last seasons of Fox's 24, option an Israeli format about two freed prisoners of war and recast it as an exploration of America's place in the world a decade after 9/11.
ALEX GANSA There was the Claire battle, the Mandy battle and then the Damian Lewis battle. There was tremendous resistance to casting him as Brody.
SALKE Alex initially pushed for Damian, but people didn't see it. Life, on NBC, had just finished. It wasn't everyone's favorite show.
DAMIAN LEWIS (NICHOLAS BRODY) Life was terrific, but it was kiboshed by the writers strike. After that, I was told I looked like a guy who'd led a show that only lasted two seasons.
CLAIRE DANES They were thinking of somebody else who I didn't think was right for it.
GANSA Ryan Phillippe came up. Also Kyle Chandler …
HOWARD GORDON Then I flew to New York on a red-eye to meet Alessandro Nivola [A Most Violent Year], who famously said no to everything. He turned down Dexter.
GANSA Howard failed that mission [with Nivola], so we were three weeks away from shooting the pilot, and we did not have a Brody yet — and we're still in the "Damian Lewis will never play this role, please do not bring him up ever again" phase.
DAVID NEVINS I didn't really know Damian.
GANSA Then I remembered [pilot director] Michael Cuesta had told me to watch this movie Damian did called Keane.
LEWIS About five people saw it, but it was the best reviewed movie I've ever been in.
GORDON Alex called me at 10:30 that night and told me I had to watch it. I was blown away.
GANSA The next morning we sent it to all the people who said, "This guy is a dead issue," and, to their credit, they watched it and said, "This is the guy." Also, we had nobody else…
PART II: Homeland marks Showtime's most watched premiere in nearly a decade with 2.8 million viewers. A hit in Hollywood and Washington, it's suddenly the most talked-about show in America, but the battle over what to do with Lewis' character casts a pall over the second and third seasons.
DANES Three episodes in, people were literally running out of stores, charging me with enthusiasm. I'd never experienced that before. My So-Called Life had this amazingly rich afterlife, but there wasn't that appreciation as it was airing.
GANSA Damian went to the White House.
LEWIS Donald Trump and others on the right were peddling this idea that Obama was born in Kenya, so I had this season-one DVD and, tongue in cheek, I wrote him a note.
GANSA It read, "From one Muslim to another."
LEWIS It was a very British thing to do, but it festered. Two weeks later, I emailed [White House Press Secretary] Jay Carney, "Please tell me that the president got my joke!" Jay said, "Yeah, he got it. Everything's cool."
PATINKIN I had never seen anything like that first season. But nothing is ever like the first time. It's never that good again. The art of living is trying to keep it good enough.
NEVINS Brody was intended to be just a few episodes — but, from the very first script, I said no. We started tinkering with the relationship.
GANSA It was so clear after the first season that there was still story to tell. And the relationship between the two of them in the most unexpected way had become front and center.
SALKE You didn't know if you're watching for Brody or Carrie, but you were definitely watching for both of them. It was so fucking compelling.
GORDON Chemistry, whatever that is, they had it.
LEWIS My understanding was always two years. Halfway through season two, having not explicitly said they were killing Brody, they gave Nevins the breakdown: "And this is when Brody dies." Nevins was like, "No, no, no. Brody's not dying."
GANSA I don't know that they were having conversations. They were just on their knees, begging not to get rid of Damian.
WALDEN They contemplated every conceivable scenario of what happens to the show with him, what happens to the show without him.
CHIP JOHANNESSEN (WRITER) At that point, [keeping him] was not a decision we made. It was a decision that was made for us and we adapted to it.
LEWIS When the critics started saying the show lost its port, I think it's because the guys had to reimagine and rewrite it just to keep me going.
NEVINS We got hammered on things that we didn't deserve to be hammered on.
GANSA By season three, the story was running out of steam.
PATINKIN I think they kept the Brody story going a year too long.
LEWIS I wasn't in every episode that last season, and that confused people. Brody was a problem. You couldn't keep flip-flopping. "Are they going to kill each other or fuck each other?" was interesting for a while.
DANES We always knew that that was a finite relationship.
GORDON But we'd baked him into the fabric of the thing.
WALDEN Finally losing Brody, that conversation made me a little sick to my stomach.
GANSA There would have been something braver about ending his story sooner. But season three proved so difficult on so many fronts. Henry Bromell died [of a heart attack in 2013], and we were getting rid of Damian even though he and Claire had the most incredible thing.
DANES Alex is actually a really good surfer, which is kind of the best metaphor for television. You're riding this wave, and you don't really know where it's going to take you exactly.
GANSA The praise and the criticism are both overstated. We shouldn't have gotten that much praise in the beginning. And where we got criticism, from people who didn't want to watch the show after Brody died or from whatever backlash we had when Quinn [Rupert Friend] died, it's because people start becoming proprietary about the characters once you've been on the air long enough.
RUPERT FRIEND (PETER QUINN) If I remember right, he'd been gassed and in a coma. Alex said, "Well, this has been great, thanks a lot. Bye." Then, a year later, I got an equally matter-of-fact, "Actually, you're not dead." Then he really died.
JOHANNESSEN It took me a while to warm up to Rupert …
Homeland: By the Numbers
7M: Weekly audience for its most watched season, No. 3, across platforms
200+: Territories across the globe that have licensed the series
8: Emmy Wins, including two for Danes, out of 39 nominations
6: Countries where the series filmed over its eight-season run
3: AFI Awards for best television program (2011, 2012 and 2015)
1: Peabody Award for the series' first season in 2011
Read the full article from The Hollywood Report here